Estimated read time: 2-3 minutes
This archived news story is available only for your personal, non-commercial use. Information in the story may be outdated or superseded by additional information. Reading or replaying the story in its archived form does not constitute a republication of the story.
WEST JORDAN -- They are as close as brothers: best friends from West Jordan who are inseparable. One of the boys can't talk or walk, but that doesn't stop him from running cross-country.
At 2:30 each weekday afternoon, 17-year-old Mack Bawden makes his daily pickup. But it's no ordinary pickup. Mack is picking up his best friend, Cameron Judd.
Cameron has cerebral palsy. Because he can't speak, he uses a computer to communicate. He and Mack have been best buddies since age 4.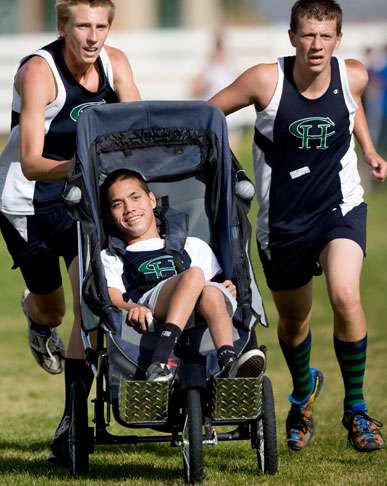 "There's something amazing about those two, both of them," says Denise Judd, Cameron's mother. "They went to kindergarten together, first grade through junior high and now high school, and they're inseparable. They do everything together."
Everything, including running. Each afternoon when Mack picks up Cam, they go to practice; both are part of the Copper Hills High School cross-country team.
"Mack just come up and says, 'I'll sacrifice my senior year and run with him and just push him along,'" says cross-country Coach Garth Rushforth.
So, for three miles, Mack pushes Cameron on the junior varsity team and the two seniors become one.
"We've been best friends for like 11 years now, so I can just figure out ways to include Cam in the things I do," Mack said.
The two play video games together, jump on a trampoline together. Mack even took Cameron and his date to Homecoming this year.
"I get emotional, because to see Cam have that kind of experience is amazing; and to see him be treated like any other teenage boy, in his condition, is amazing," Denise Judd says.
The two also ran track, where they finished the mile under six minutes. Cross-country is more difficult, though. Mack has to push 150 pounds along uneven terrain. Copper Hills senior Logan Anderson also gives Mack a hand.
"We end up beating over 30 kids like every race," Mack says. "We're not like the best, but we're not bad."
Mack and Cameron plan on running a half marathon in November and hope to get in two full marathons before Mack leaves on his LDS mission.
"That's going to be the hardest part is leaving Cam. But he's planning on going on a mission too, he just doesn't know how yet," Mack said. "We'll be apart for two years, but we'll be busy."
Then they'll reunite and continue their friendship -- one that is unlike any other.
"[I] just love Cam. It's just like when you see someone, it's like I just love that kid. That's how it always is with Cam," Mack said.
The feeling is mutual.
"I love him," Cam said through his computer.
With the help of aides, Cameron takes regular classes at Copper Hills High School, where he currently holds a 3.6 GPA. Mack is Copper Hills' senior class president.
E-mail: kaiken@ksl.com
×
Most recent Utah stories