Estimated read time: 9-10 minutes
This archived news story is available only for your personal, non-commercial use. Information in the story may be outdated or superseded by additional information. Reading or replaying the story in its archived form does not constitute a republication of the story.
SALT LAKE CITY -- Children across the country, including some in Utah, are being forced into prostitution.
Young boys and girls are being offered for sale, mainly on the Internet, to perform sex acts against their will.
Former child prostitute shares her story
Amanda Bonella considers herself a former child prostitute. She told KSL Newsradio about her life traveling the western United States under the control of pimps and gangs. Now she travels the world to talk about her experience. Recently, she addressed audiences in Utah.
"I don't want to give out details that would identify who my abuser was because I've healed from a lot of other stuff," Bonella said, struggling to hold back tears. "But the desire to have a family or a home or a place in the world is really compelling for a child. I really wanted a family and it was really hard to leave that home."
Memories of her teenage years are still raw. Bonella explained that after moving through 16 homes in the Canadian foster care system, she landed in a home where she said her foster father was a pedophile attracted to young girls. She reported the abuse to local church leaders associated with the adoption agency but she said her attempts were fruitless.
"That really devastated me because I thought if they have the ear of God, then they should know the truth," Bonella said.
So at 15 years old, Bonella had to choose between sexual abuse and prostitution. Bonella decided to run away into the streets of Calgary, Alberta. She met up with a "gang" -- a pimp and a woman who took her in with the promise of taking care of her.
It was the promise of a warm bed, a place live and food to eat that made her vulnerable to child prostitution.
"You can't be homeless for a long time in a place that's cold," Bonella said. "It's very cold in a place like Alberta."
Soon she realized that she'd have to perform sex acts if she wanted to survive.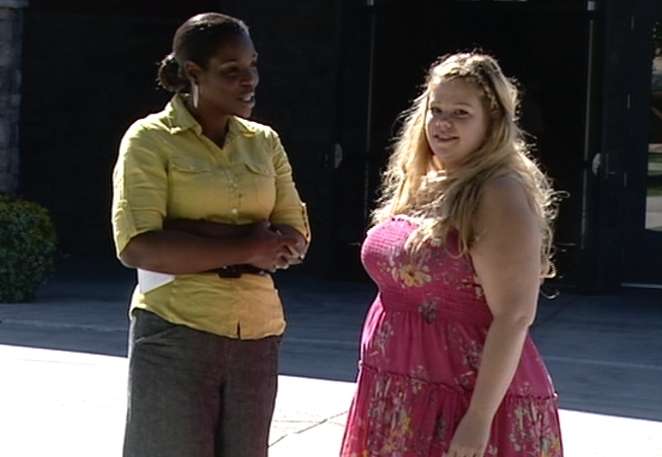 "They make you a lot of promises, the pimps and the gangs that control you," she explained. "You actually are not well taken care of, but you think they're going to take care of you. You need someone to take care of you because you don't know how to take care of yourself yet."
Instead, Bonella said her pimp and gang moved her to different cities, mainly small towns.
"The small towns are just completely oblivious to this," Bonella said.
They also kept her isolated.
"We would never leave the hotel room," Bonella said. "The only time that we would leave was when somebody took us to see a client for a date or a trick or whatever you want to call them. And then we'd be back in the room and we were not allowed to leave."
Bonella's pimp was also violent with her. This revolving door and constant movement continued for nearly 10 years.
Then Bonella got pregnant at age 17. That would become her ticket to freedom from child prostitution.
"You need such an intense motivation to do what it takes to get out because it's really, really hard. It's harder than people realize," Bonella explained.
"My dates were priests, lawyers, police, social workers, fathers with car seats in the back of their car," she said. "These are the people I'm supposed to respect in society, so to think about joining it is really frightening."
But she managed to find freedom through the doors of a group called "Peers" in Victoria, Canada. Bonella met a survivor, a woman who had walked her same path. She said she had never met anyone who left the sex trade alive.
"My best friend in this trade was bludgeoned to death," she said. "I've lost a number of sisters in the trade."
As the woman began telling her story, Bonella could hardly contain her emotions.
"This woman, as soon as I walked in the door -- I can never tell this story without crying," Bonella said. "She just grabbed me by the hand and took me into a room and started telling me her story."
Child prostitution industry a problem in Utah
It's rare to see the faces of victims of child prostitution. According to anti-human trafficking activists, the victims fear for their safety, there are on-going police investigations and it takes a long time mentally to escape the situation.
Hundreds of those faces are kept hidden in homes across Utah. Lindsay Hadley, executive director of the Child Rescue of North America, told KSL of one such case.
"A 12-year-old girl in Sandy, blond hair, blue eyes, native born," Hadley described. "She was so young. In her purse she had condoms and Pokemon cards."
The Internet makes those hidden faces of child prostitution more prevalent.
"The new streets have become the online computer," Hadley said. "Instead of working the curb like traditional prostitution, it's all done through the Internet."
Hadley also said child prostitution affects girls more than boys.
"Eighty percent of all traffic victims worldwide are women, and 50 percent are children," she said.
But young boys are also victimized.
"A guy can get on the Internet and he can order," Hadley said. "[They say,] 'I want a boy, 10 years old, no hair anywhere. I want him this size, to be this tall, these certain acts.' And then [they] order it like you would purchase any commodity."
It's a very lucrative industry, Hadley said, because, "You buy drugs once and it's gone. But you can sell a child over and over again."
In Utah, law enforcement agencies are seeing what's described as the "boyfriend tactic."
"These adult pimps and traffickers will go in and make a relationship with a teenage girl, make her fall in love. They'll be romantic," Hadley explained. "And then he'll get her in a position where he says, 'Hey, you need to have sex with my friend for money because we need drugs; and if you don't, you don't love me.'"
Hadley continued on to say once the girl performs the sex act the first time, she's emotionally damaged from it.
"Pretty soon, she'll discover that he doesn't love her anymore. He doesn't care about her. He's beating her and threatening the life of her loved ones," she said.
Law enforcement making progress against child prostitute industry
Salt Lake City police Sgt. Roger Williams has seen this scenario many times during his undercover work.
"We've had a number of cases where we were able to determine the girls were coerced through force or coercion to act as prostitutes," Williams said. "We're answering ads that these women are placing on Craigslist, Backpages, City Vibe."
Williams also explained how this coercion typically starts with a smooth-talking pimp or a team (male and female pimps) finding vulnerable girls or boys, like runaways, and making them promises of wealth. They say things like, "Hey, I know how you can make a lot more money than a doctor or a lawyer."
In one particular case, Williams described how a male and female pimp team recruited one young Utah girl and trained her to perform sex acts.
"Before the young girl knew it, she was actually doing 'dates' on her own," William said. "And they'd collect the money at the end of the day, and she never got any money."
This continued until, Williams said, the victims are desensitized to their situation.
"A lot of these deals, the young girls are humiliated to the degree they lose all self-esteem," he explained. "And oftentimes they're gang raped by the pimp and his friends, and they feel stuck and useless and don't try to get out."
Anti-human trafficking activists say this is the typical track for sex trafficking, but since trafficking is such an underground activity it's difficult to get an exact number of how many kids are out there.
However, in the past two years the Utah Human Trafficking Task Force says police have rescued 14 child prostitutes in Utah cities like Bountiful, West Valley, and Sandy. Assistant U.S. Attorney Brett Parkinson heads the force.
"We've seen hundreds of leads or tips that've come into the task force that have resulted in seven individuals being prosecuted for human trafficking-related crimes on the federal level," Parkinson said, "and three others that've been prosecuted for non trafficking-related offenses but started out as trafficking leads."
Parkinson also said his team is primarily focused on rescuing victims, which can be difficult because oftentimes the perpetrators do a good job of brainwashing their victims.
"A victim will come forward and tell a compelling story," Parkinson said. "We often have trouble with a victim who has spent a lot of time with a trafficker who has taken advantage of them for one reason or another and have really messed with their mind."
The most vulnerable victims are the disadvantaged and already-victimized youth, Parkinson said. They are represented by runaways and others.
"It's happening here in Utah. It's not California. It's not New York. It's in Salt Lake City," said Gina Bellazetin, with the Utah Health and Human Rights Project.
Bellazetin works with victims from all walks of life.
"We've seen them come from good families, from what people call 'broken families,' single-parent families," Bellazetin said. "I've had cases dealing with sex trafficking of minors wherein the girls get recruited by a boyfriend or somebody who's just being friendly; and before they know it, they're in a trafficking situation and they can't get out."
Advice for parents
As painful as her experience was, Amanda Bonella said she would still make the same decision to leave her abusive foster home that cold winter day.
"I would definitely rather, still to this day, work in prostitution than spend another night in a house where at any moment a man could walk in the room and start touching me without my consent, and I had to call him dad," Bonella said.
But she said she feels she has a responsibility to those in the trade who didn't survive.
"I would just ask people to immediately today change the way they perceive people who work in the sex trade," Bonella said. "I hope that the next time I come to Salt Lake City there's another girl like me. There needs to be a lot of empowerment for people that have exited."
In fact, Bonella warns parents to stay close to your kids, especially during those challenging teenage years.
"The people that recruit or lure young people into this say all the right things," Bonella explained, "so you better be doing just as good a job as they are."
Hadley agrees. She said these stories of young children being victimized can be overwhelming, but parents need to realize they have the capacity to fight this.
"If we can have dolphin-free tuna fish, then we can stop our kids from being sex slaves," she said.
Hadley believes Utahns can become leaders in fighting human trafficking simply by becoming aware of what's happening in our neighborhoods.
"I think understanding what you have to combat and the specifics and the nature of it is important," Hadley said. "If we're naïve, we can't protect ourselves."
E-mail: niymba@ksl.com
×
Related links
Most recent Utah stories