Estimated read time: 2-3 minutes
This archived news story is available only for your personal, non-commercial use. Information in the story may be outdated or superseded by additional information. Reading or replaying the story in its archived form does not constitute a republication of the story.
Alex Cabrero Reporitng17-million dollars could make almost anyone smile, and if anyone needs it, it's the people involved with the agricultural department at Utah State University. The van crash which killed eight students and their professor two months ago is still fresh in their minds, but they finally got some good news.
That crash touched a lot of people in Logan, Utah and alumni across the country. Ever since, students and faculty have been dealing with the big loss, but finally, thanks to the US Senate, there is something to smile about.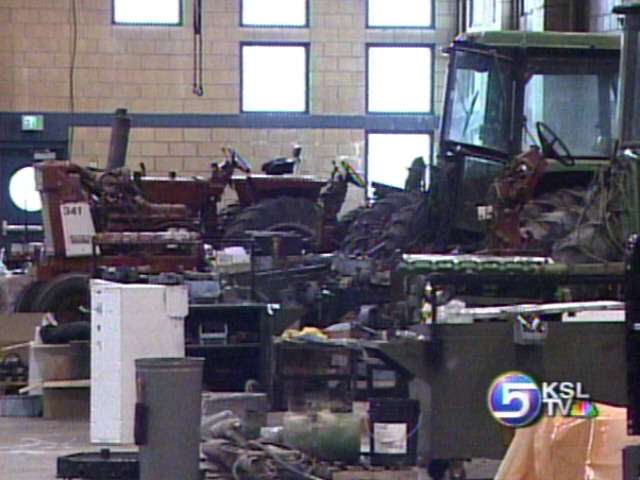 The thing with machines is, when they're broke you can fix it, but to this day, no one has ever told Bruce Miller how to deal with his broken heart.
Bruce Miller, USU Agriculture Dept.: "I think this is a defining moment, if you would, or a defining event that will be with our program and university and college forever."
Miller is the head of Utah State University's agricultural program, the program that lost nine of its members this past September after their van rolled over coming home from a field trip.
Bruce Miller: "After the accident the department, of course, went through a mourning stage."
Luke Peterson, Student, USU: "For a few weeks things were pretty slow around here."
But now things should start picking up. This past week the US Senate approved just over 17-million dollars to go towards the USU agricultural program. The pasture and forage research program Luke Petersen works in got about a quarter million of it.
Luke Petersen: "As agriculturalists we know when you get bucked off, you get right back on."
Now without this money Utah State still could've done their projects and moved along like they usually do. But with this money Utah State can expand their programs and do even more projects, to be even better.
Bruce Miller: "The funds that come into the college of agriculture and to individual programs, help advance those programs, and so it means we get to take steps a little faster."
Steps that six weeks ago seemed almost impossible to take.
Bruce Miller: "We will never forget the tragic accident, but we will move forward, and have good events going on and a strong agriculture still founded here at Utah State and our department."
The 17-million still has to be signed off by President Bush before going to Logan.
Also, this Monday the university is having a memorial for those who died in the crash, another way of showing the victims haven't been forgotten.
×
Most recent Utah stories