Estimated read time: 2-3 minutes
This archived news story is available only for your personal, non-commercial use. Information in the story may be outdated or superseded by additional information. Reading or replaying the story in its archived form does not constitute a republication of the story.
Nishi Gupta Reporting"If he hadn't been wearing his seatbelt and with a lot of luck, it could've turned out much, much worse for us."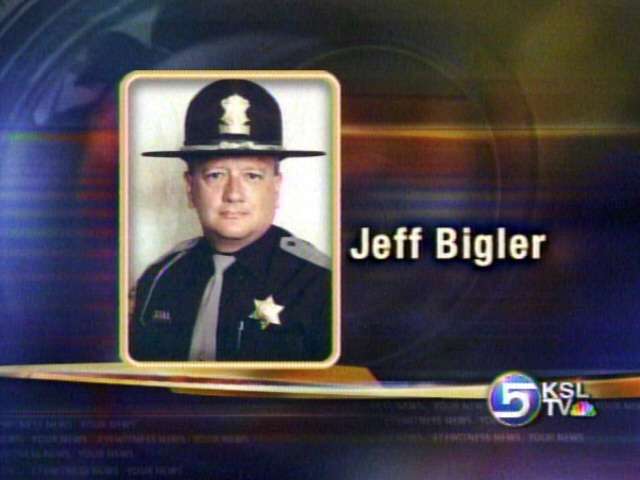 A trooper was trying to catch up with a speeding bullet bike when he rounded a corner too fast and got in a terrible accident. The Utah Highway Patrol Officer is expected to make full recovery, but he was badly injured.
Family members and friends from law enforcement have let out a collective sigh of relief. They know he's lucky to be alive, especially after watching the dashcam video.
Marjorie Bigler is crying because she's happy her husband Senior Trooper Jeff Bigler is going to be okay after being seriously injured in a high speed chase.
Sgt. Sheldon Riches, Utah Highway Patrol: "The vehicle itself is demolished. For the grace of God we can say he made it through this."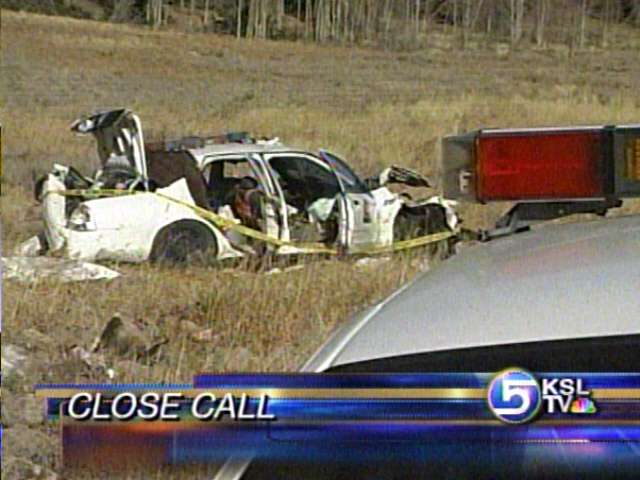 Perhaps you can see why he considers it such a miracle. The car metal mangled, car parts scattered about and his fellow troopers left to pick up the pieces.
Marjorie Bigler, Trooper Bigler's Wife: "Being a law enforcement official is a special calling; he does his job very well."
Trooper Bigler's keen eye noticed the speeding bullet biker.
Sgt. Riches: "He radars the bullet bike. The speed of the bullet bike was 64 miles per hour, in a 40 zone."
The biker was headed in the opposite direction so Trooper Bigler spun his car around and tried to catch up with him. Eyewitness obtained the dash cam video of his pursuit. Police say he was going about 100 miles an hour on State Road 14 near Cedar City. As you can see, he comes around a curve and loses control.
Sgt. Riches: "The vehicle rolls end over end approximately two times."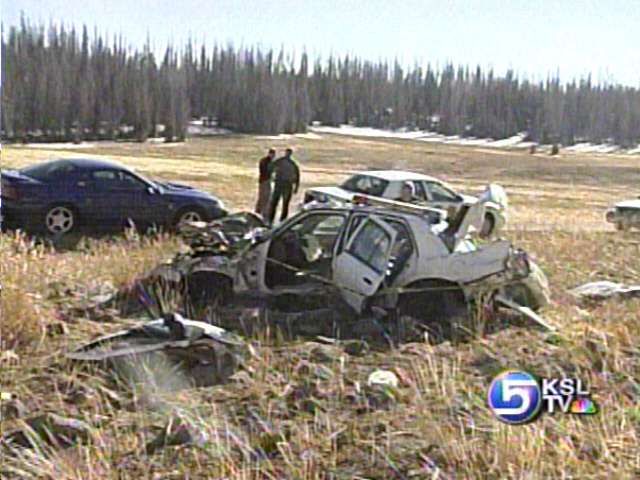 When the car finished rolling he was pinned inside and had to be extricated.
Marjorie Bigler: "I'm extremely grateful to still have him here with us."
His injuries include broken vertebrae in his back, and possibly some damage to the neck. His wife says he's doing well, although he is a little groggy. But don't expect this to be the last you hear of Trooper Bigler; this 24 year veteran of the Highway Patrol has no plans to stop doing what he loves.
Marjorie Bigler: "What he told me this warning was he's still having too much fun."
His wife says doctors expect a full recovery, although it may take some time.
Police have talked to a person of interest, but say they are still investigating. If the biker is found, he could charged be with evading a police officer.
×
Most recent Utah stories