Estimated read time: 1-2 minutes
This archived news story is available only for your personal, non-commercial use. Information in the story may be outdated or superseded by additional information. Reading or replaying the story in its archived form does not constitute a republication of the story.
Gene Kennedy ReportingA semi rollover on Interstate 80 blocking the freeway for hours this morning. It was just before 8:00 this morning, a semi slammed into the concrete medium on I-80. Diesel fuel started leaking and the freeway was shut down for two hours.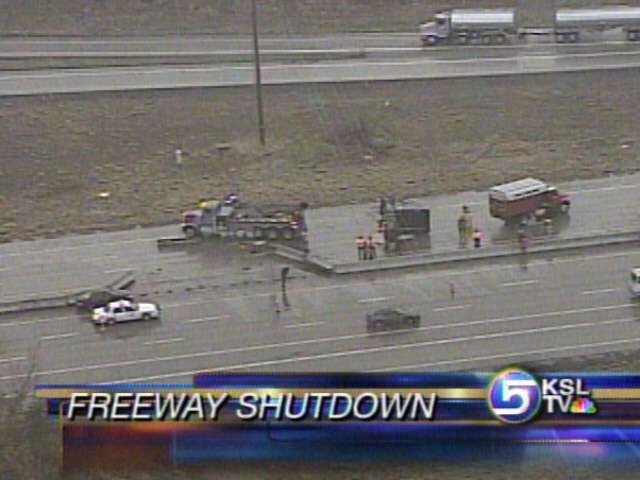 The accident has now been cleared and the freeway's back open, but what an unbelievable crash it was! We talked with the semi driver right after it happened.
Reporter: "Sir, you doing okay? What happened?"
Driver: "(Shrugs) This is the first time this has happened."
Reporter: "This is the first time you've had an accident?"
Driver: "Yeah."
Trooper Mike Wells, Utah Highway Patrol: "Right now very minor injuries, lucky to say so. He's up and walking and talking. He'll be fine."
That's pretty amazing considering the accident. The semi came off a ramp, heading eastbound on I-80. It somehow lost control, the driver overcorrected, then slammed into the concrete barriers in the middle of the freeway.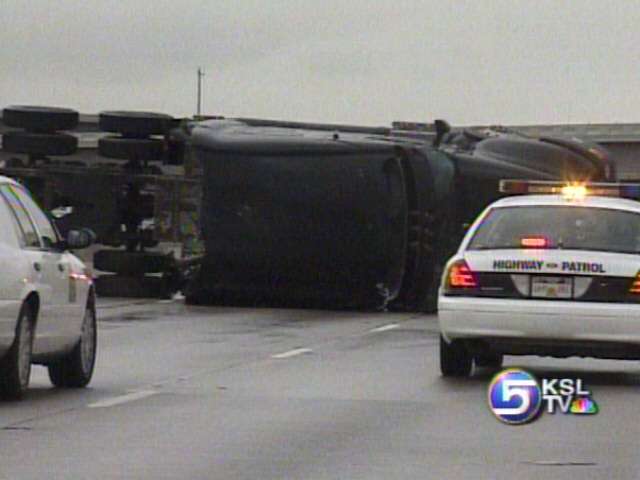 The truck rolled on its side, blocking three of the westbound lanes. Fortunately the semi did not hit any other cars, but the highway patrol had to shut down the westbound lanes so hazmat crews could clean up diesel fuel that was leaking. The accident severed the semi's gas tank, spilling 150 gallons of diesel fuel on the Interstate.
The truck driver blames the slick road for the crash. The highway patrol added that the driver was going too fast for the weather conditions.
Trooper Mike Wells, Utah Highway Patrol: "45 miles per hour on that curve is tough to negotiate with wet roads."
The highway patrol say the driver should have been going 35 miles an hour or slower and troopers plan on citing him for speeding.
×
Most recent Utah stories