Estimated read time: 2-3 minutes
This archived news story is available only for your personal, non-commercial use. Information in the story may be outdated or superseded by additional information. Reading or replaying the story in its archived form does not constitute a republication of the story.
SALT LAKE CITY -- Family and friends of a Utah soldier killed in Afghanistan last week gathered at the Salt Lake International Airport Thursday to greet the plane carrying his body home.
Sgt. Aaron Kramer, 22, was shot and killed during a firefight with enemy soldiers Sept. 16. Now, he's being remembered as a hero.
Kramer's homecoming ceremony Thursday was somber and quiet. Other than the occasional plane taking off, the only sound was from the cries of those who loved him most.
The charter jet carrying Kramer's body from Dover Air Force Base in Delaware arrived at 11 a.m. Close to 200 members of the Utah Air National Guard stood at attention as the casket was lowered to the tarmac.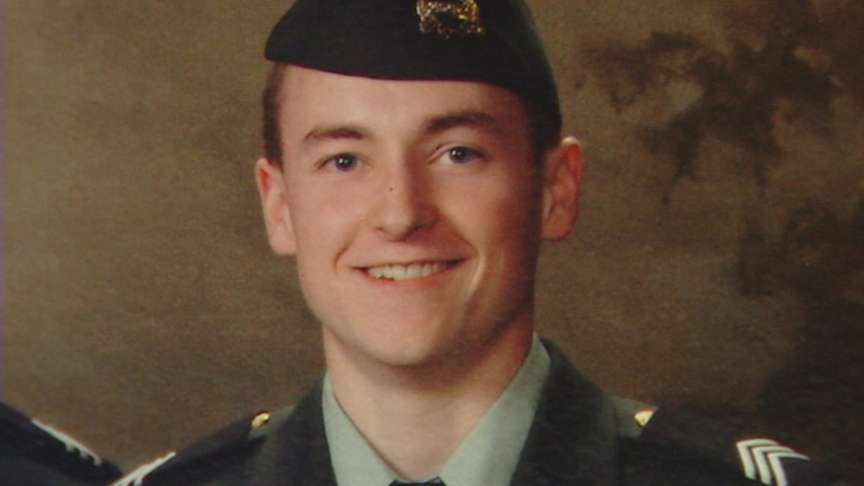 Fifty members of the Patriot Guard Riders lined the runway with flags. The family, including Kramer's wife, Jackie, then walked hand-in-hand to meet his casket, which was covered by an American flag.
"Our hearts are just full," said Aaron's uncle and family spokesman Dallan Sohm. "I have deep feelings for the sacrifice he made. I'm very proud."
Kramer's parents hugged his twin brother Brandon, who arrived with the body. He is a member of the 82nd Airborne Division serving in Ft. Bragg, N.C. and recently returned from a tour in Iraq. He was dressed in full uniform at the ceremony.
Sohm says Brandon had been determined to accompany his brother's body home. "He didn't know how to go about it, but he stuck with it until he got the orders approved," he said.
Family members say Brandon is taking Aaron's death the hardest.
"They've never been separated," said Sohm. "They're twins, and they weren't separated today either in that long journey on the airplane. Brandon was there with him, and he's been there his whole life and will continue to be there. We felt Aaron's presence here today."
As the family looked on, an Army Reserve honor guard carried the casket to a waiting hearse.
"There were just a lot of feelings here today, both feelings of sadness and feelings of just being proud of a young man that did a great job for his country," Sohm said.
Aaron Kramer was an Army Ranger-qualified airborne infantryman with the 101st Airborne Division. Apparently, Aaron was shot when he led his unit to go after enemy soldiers who fired at them first. He died in a medical helicopter on the way to the hospital.
Richard Kramer, Aaron's father, said the family has enjoyed great support from family and friends during the past week.
A viewing is set for Friday evening. The funeral will take place Saturday at 11 a.m. at an LDS chapel near the Kramers' Cottonwood Heights home.
------
Story compiled with contributions from Nicole Gonzales and Steve Fidel.
×
Photos
Related stories
Most recent Utah stories