Estimated read time: 4-5 minutes
This archived news story is available only for your personal, non-commercial use. Information in the story may be outdated or superseded by additional information. Reading or replaying the story in its archived form does not constitute a republication of the story.
AMERICAN FORK -- The former seminary principal who developed a sexual relationship with a 16-year-old student was sentenced to prison Monday morning.
Michael J. Pratt, 38, was ordered to serve five years to life in the Utah State Prison after previously pleading guilty to two counts of object rape, forcible sodomy and forcible sex abuse. The three first-degree felonies and one second-degree felony will be served concurrently.
Pratt addressed the court briefly.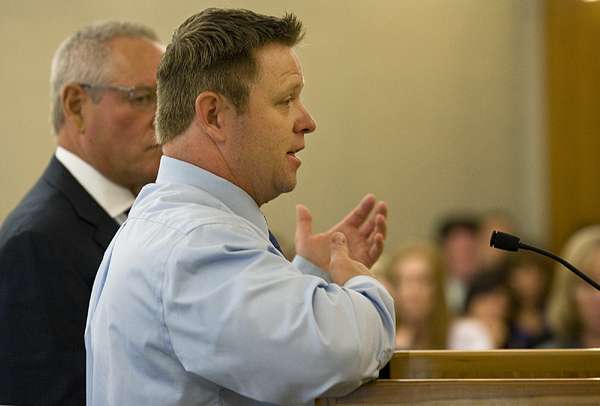 "I am not asking for mercy to rob justice. I pray that those who I've hurt, whether or not they can forgive me right now, hope they can find the healing, and the hope and peace that they need in their life," Pratt said quietly. "I acknowledge that I did wrong, prepared to pay whatever the price I need to pay for that."
Attorney says Pratt prepared for prison
Pratt was originally charged with 21 felonies, including multiple counts of forcible sodomy, object rape, rape and forcible sex abuse, but took a plea deal rather than go to trial.
Pratt's attorney says his client expected to go to prison.
"I think he was ready for it," said defense attorney Stephen McCaughey. "He's ready to go do his time."
That time will likely be at least six years in prison, McCaughey said.
For now, Pratt's wife is supporting their four young children -- all on her own.
"My heart goes does go out to the family of Mr. Pratt, because they are victims in this matter as well," said prosecutor Julia Thomas. "But as the judge said, his conduct was so egregious so in conflict with his role as a teacher and spiritual leader that a prison sentence was warranted."
Defendant's actions played out in court
During the hearing, Pratt was painted as a "sick, perverted, arrogant child predator" by family members of the victim.
Prosecutors say Pratt twisted and used the victim's religion to validate what he did. They don't believe Pratt ever fully took responsibility for his crimes.
"I am appalled at all the things Michael Pratt taught my daughter that no 16-year-old should witness," the victim's mother tearfully told the judge, before shifting her focus to Pratt. "You lied to her, manipulated her, deceived her so that you could play out your sexual fantasies."
Pratt was arrested July 9, 2009, after police say he repeatedly checked a 16-year-old high school student out of class without her parents' permission, and then drove her around the county for sexual rendezvous.
The girl, now 18, told the Deseret News last year that she had fallen in love with Pratt as he groomed her and concocted elaborate plans for their future together. He vowed they would run away and get married when she turned 18, despite the fact that Pratt is married and has four children -- one born just weeks ago.
Yet Monday, she told him a strong voice: "Today I want to make it clear to you, I am no longer blinded by your craftiness, my eyes are wide open," she said. "I am no longer your puppet, your toy, your game."
The judge told Pratt that even without physical force, a 16-year-old girl can't consent to sex, adding, "This wasn't a romance, it was a crime."
Supporters of both sides attend court, tell conflicting stories of Pratt
The victim's father spoke for nearly an hour, detailing the pain that began in early 2009.
---
"I wanted to believe that nothing was going on," the victim's father said. "He'd helped so many kids and surely this wasn't what it appeared to be."
---
"I wanted to believe that nothing was going on," he said. "After all, he was the amazing Brother Pratt, he was the seminary principal and in a bishopric. He'd helped so many kids and surely this wasn't what it appeared to be."
The victim had been in a rough spot in her life, and she turned to Pratt, her seminary principal, for advice and support. Her mother and father began to see positive changes and initially said they thought Pratt was the "answer to their prayers."
But soon, Pratt was doing more than just listening and counseling. Police say he first took the girl to Bridal Veil Falls in May 2009 and described a fantasy involving the two of them. Soon, kissing turned into sexual activity.
Such encounters continued throughout the summer, with Pratt continuing to take the girl from school without her parent's knowledge. Yet the girl's parents' grew more concerned as their daughter's behavior became more secretive. At that point, the parents began to follow their daughter and review her phone records.
By late June, the victim's parents were convinced the teacher/student relationship had gone too far, and expressed their concerns to officials at the Church Education System of The Church of Jesus Christ of Latter-day Saints. Pratt was terminated in early July.
After Pratt's arrest and even when the Utah County Attorney's Office filed charges, students came forward to defend Pratt, many claiming he had been pivotal in their spiritual growth or continued seminary attendance.
They vouched for his goodness and compassion and some even came to court hearings. Other students said that even if it the charges were true, they wouldn't change the positive things he had done.
------
Story compiled with contributions from Sara Israelsen-Hartley and Sam Penrod.
×
Photos
Related stories
Most recent Utah stories