Estimated read time: 2-3 minutes
This archived news story is available only for your personal, non-commercial use. Information in the story may be outdated or superseded by additional information. Reading or replaying the story in its archived form does not constitute a republication of the story.
John Hollenhorst ReportingA growing controversy pulled Governor Jon Huntsman into a remote part of the West Desert today. It was the first gubernatorial visit there in a quarter of a century. Residents hope he'll stand with them against a water grab by Las Vegas.
It may be the most remote school in the state, but there were enough kids to give the Governor a warm greeting. When he asked what was on their mind, there was only one thing.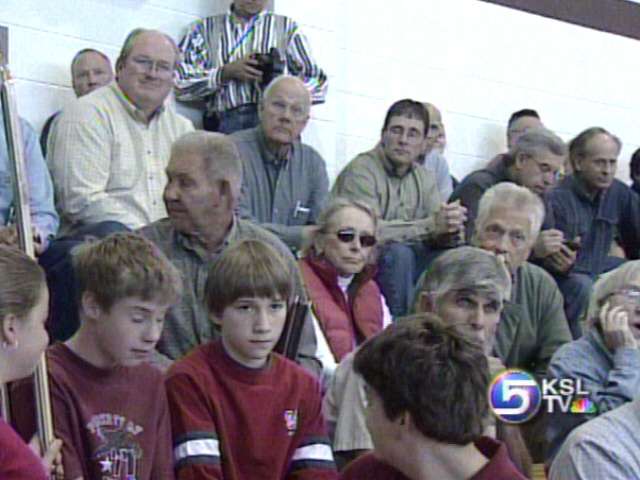 Alison Johnson, Callao Resident: "Nevada needs to keep their pipes out of our aquifier."
It's the big issue. Some say this was the biggest crowd ever in Snake Valley, outside of school graduation.
Merle Rawlings, Snake Valley Resident: "I hope Utah will reach a very tough agreement with Nevada."
They're worried about the eight-thousand-pound gorilla across the border, Las Vegas, with its huge appetite for water. Water, as in "lifeblood".
Mark White, Garrison Resident: "We need that to survive, we need that for animals to survive, need that for plants to survive. I mean, without the water this wouldn't be a civilization."
Las Vegas has proposed pipelines and deep wells on the Nevada side of the border, but just barely. There's concern it will dry up springs and draw down wells with no realistic way to mitigate the damage.
Merle Rawlings, Snake Valley: "Because if we go to mitigation we automatically go to extinction."
The biggest worry of the people of Snake Valley is that all the money and power of Las Vegas will squash them like bugs.
Neil Cook, Juab County Commissioner: "We believe strongly that it's got to be a state fight. And we've got to have the power the influence, the politics, whatever it takes from the state of Utah to win this fight."
Governor Huntsman: "For Nevada to sell me on the project, that would be a very difficult sell."
The governor says he'll wait for scientific studies, but seems inclined to side with Snake Valley residents.
Gov. Huntsman: "And I think to a person they'll tell you their lifestyles would be threatened out here."
In a place this remote, they consider it a success just to get the governor's attention. Residents are demanding the federal government or Las Vegas pay for test drilling. The government study is expected to take several years.
×
Most recent Utah stories