Estimated read time: 4-5 minutes
This archived news story is available only for your personal, non-commercial use. Information in the story may be outdated or superseded by additional information. Reading or replaying the story in its archived form does not constitute a republication of the story.
SALT LAKE CITY -- On Aug. 27, a Salt Lake City police officer stopped what could have been a disaster. The officer fatally shot a heavily-armed soldier outside of the Grand America Hotel, whom investigators believe had a deadly plan.
Police say the officer was able to stop 28-year-old Brandon Barrett because of the actions of of a bold civilian. Both were honored by Salt Lake City's mayor and police chief Monday.
During the press conference, KSL News also learned a lot more about what happened that day.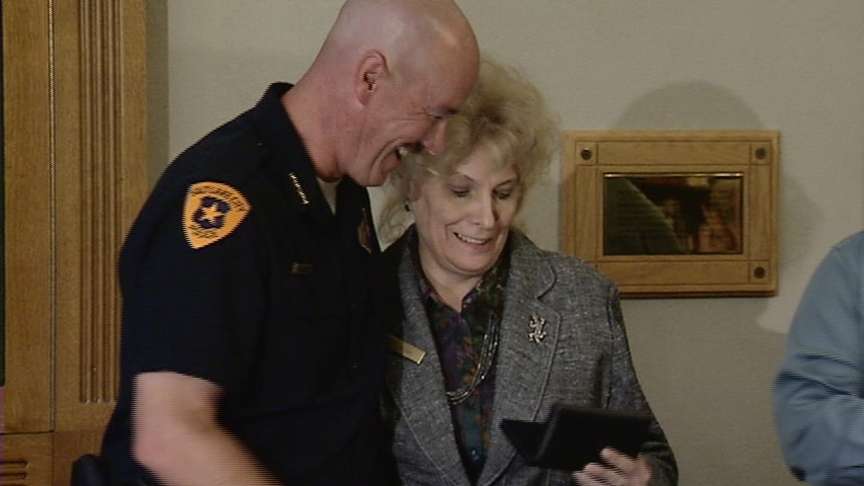 Robyn Salmon had already finished her shift as a security guard at the Grand America Hotel on the afternoon of Aug. 27, but something kept her from leaving. She was in the parking garage when she saw Barrett heading toward the elevator.
"I said, 'Excuse me, sir. Can I help you?' And he said, 'I need to go up,'" Salmon recalled. "I said, 'What for? I'm with security. Can I assist you?' And he said, 'Just up.'"
Barrett was in full military garb, and Salmon wasn't about to lead him into the hotel. She knew she couldn't get enough radio reception to call for help in the garage, so she told him to follow her, which to her surprise he did.
"I'm a 60-year-old grandma, first-time grandma," Salmon said. "I don't think I was threatening."
Once outside, Barrett walked right past Salmon while she called the police. But Salt Lake police Officer Uppson Downes was already there, stopped at the light at 600 South and State Street.
Civilians started banging on his patrol car, saying an armed man was on the streets. He pulled over and spotted Barrett.
"He was in full military gear, that I could tell," Downes said. "Being a vet myself, [the] first thought through my head was maybe this is a training exercise."
But it was no exercise.
Police say Barrett -- a U.S. Army deserter -- went to the hotel on a mission. Detectives say he had told friends and posted on Facebook that they should watch the news in Salt Lake City because he was going to be famous and something big was going to happen.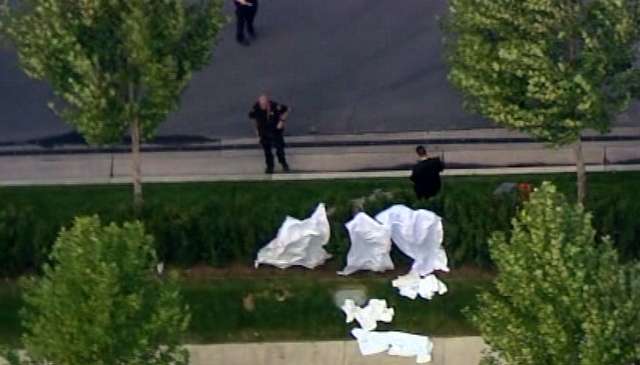 "I did ask him to drop his weapon," Downes said, "and he didn't even wait for me to finish before he decided to open fire."
A bullet hit Downes in the leg, and at least six others went into his car. When Downes had a clear shot at Barrett, he took it.
Downes fired three shots, all from about 75 feet away. One of the bullets hit Barrett in the face, killing him.
Police found a rifle, two handguns, 1,000 rounds of ammunition and a scope on Barrett. They believe he was headed to the top of the hotel to set up as a sniper -- a position where he could have taken countless lives.
Monday afternoon, Salt Lake City Mayor Ralph Becker and Salt Lake City Police Chief Chris Burbank awarded Downes the highest honor given to police officers: the Medal of Valor. He was also awarded the Purple Heart.
Salmon was given the Public Service Award for her role in stopping Barrett from entering the hotel.
"The possibilities are huge as to what could have happened," Salmon said.
"There's just not any answer, I guess," Downes said. "Somebody was looking out for me. Something happened to get me to stay."
The Salt Lake County District Attorney's Office cleared Downes of any wrongdoing Monday.
In a news release, District Attorney Lohra Miller stated, "In this instance, Mr. Barrett's continued advance toward the officer, displayed aggression with a weapon, and refusal to comply with the responding officer's commands made the responding officer reasonably believe the use of deadly force was necessary to prevent serious bodily injury or death to himself."
Downes is new to the Salt Lake City Police Department; he's been with the force for about a year.
Both Downes and Salmon say their hearts go out to Barrett's family and other soldiers who are struggling with the emotional strain from war.
------
Story compiled with contributions from Jennifer Stagg and Paul Nelson.
×
Related stories
Most recent Utah stories