Estimated read time: 2-3 minutes
This archived news story is available only for your personal, non-commercial use. Information in the story may be outdated or superseded by additional information. Reading or replaying the story in its archived form does not constitute a republication of the story.
John Hollenhorst reportingDid a Texas billionaire, who's been a controversial rancher in Eastern Utah, pay bribes to Saddam Hussein?
Tom Bachtell, Wyatt's Former Lawyer: "He's a true patriot. He wouldn't do this, in my opinion."
As Oscar Wyatt faces charges that could bring 62 years in prison, his former lawyer in Utah stood up for him today.
Oscar Wyatt cuts a wide swath as a Texas oil-man with a reputation for tough tactics. On his ranch in Utah, he's made sparks fly, battling government agencies and environmentalists.
Now, Oscar Wyatt is facing the biggest battle of his career.
It's a long way from Utah's Book Cliffs to Baghdad. Oscar Wyatt pursues business interests in both places from his base in Texas.
Now he's caught up in a worldwide scandal over companies that evidently enriched Saddam Hussein at the expense of his people.
When we first met Oscar Wyatt on his Utah ranch almost a decade ago, on horseback nd helicopter he was fighting bureaucrats and environmentalists over a mushrooming elk population. He was known as a tough-talking Texan who played very hard ball.
Oscar Wyatt, Utah 1997: "I want what I'm entitled to. And I want the other people to have what they're entitled to."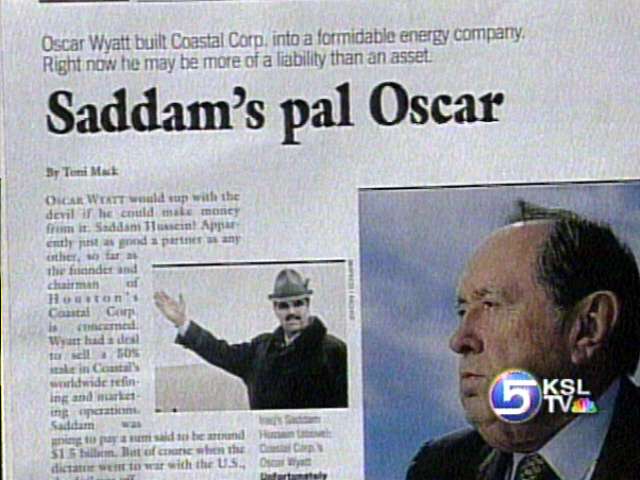 Even then Wyatt was sometimes portrayed as Saddam's pal.
Thursday he went to court to plead "Not Guilty" on charges of paying Saddam's regime secret kickbacks, bribes, amounting to millions of dollars
His former lawyer in Utah predicts a typical Oscar Wyatt response.
Tom Bachtell, Wyatt's Former Lawyer: " He's presumed innocent, until proven guilty. And i think he's going to fight like hell."
The charges grow out of the Oil-For-Food scandal swirling around the United Nations.
In the fiery aftermath of the first Gulf War, the US and other nations imposed sanctions, forbidding business with Saddam.
But an exception was made to help the people of Iraq; Iraqi oil could be sold for food. A report unveiled Friday indicates Saddam profited handsomely. As the price of doing business, his regime demanded fees, kickbacks. More than two-thousand companies did pay including Oscar Wyatt's.
The money disappeared into Saddam's secret bank accounts.
Paul Volker, Former Federal Reserve Chairman: "One result was to reduce the amount of funds available to the new government of Iraq."
Tom Bachtell, Wyatt's Former Lawyer: "I think the UN's at fault. I think they were real lax in what they did."
That view is partly shared by former Federal Reserve Chairman Paul Volcker.
Paul Volker, Former Federal Reserve Chairman: "The corruption of the program by Saddam and by many participants, and it was substantial, could have not have been nearly so pervasive if there had been more disciplined management by the UN and it's agencies."
In the indictment the federal government says it intends to seize at least a billion dollars in ill-gotten gains, including three of Wyatt's properties in Utah.
Wyatt is 81 years old. He remains free on a 2 million dollar bond.
×
Most recent Utah stories