Estimated read time: 2-3 minutes
This archived news story is available only for your personal, non-commercial use. Information in the story may be outdated or superseded by additional information. Reading or replaying the story in its archived form does not constitute a republication of the story.
Keith McCord ReportingThe "buzz" over the Jazz has been building for the past several weeks. After last night's win over Golden State - a win propelling them to the Western Conference Finals - the buzz is even louder
It's been a while since the Jazz have gone this far in the post season; 1998 was the last time. Now Boozer, AK, Matt, Memo and the rest will wait to see who they'll play. The players and coaches will tell us they don't care who their next opponent is, but fans will. We asked them.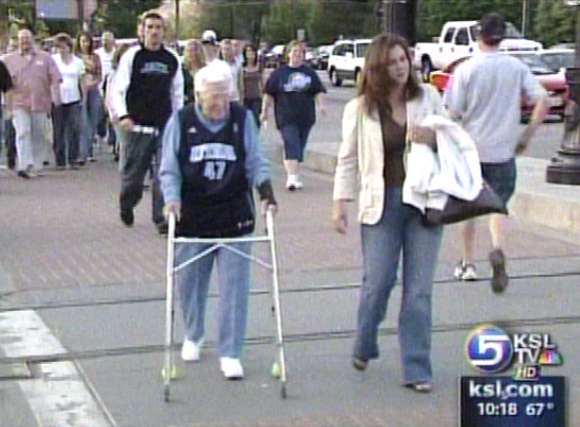 Survey USA conducted a statewide poll of 500 people exclusively for Eyewitness News today and two-thirds say they hope it's the Phoenix Suns.
The current Jazz team has played remarkably well this season, with an exciting, unpredictable offense and solid defense. With that, we asked, is this team the best Jazz team ever? Even better than the "Stockton-Malone-Hornacek" team?
One fan answered, "I think it's a bit early to be putting them into that category at this point."
Another said, "It's just different. I don't know that it's better, different isn't necessarily better. They're certainly clicking."
Thirty-three percent say, yes, this is the best Jazz team ever, but 58 percent say they still don't compare to a decade ago.
This is certainly the "hottest" ticket in town right now. We wondered just how hot and how much fans would be willing to pay for a seat at the conference finals game at Energy Solutions Arena. Two-thirds of those surveyed say their budget is under $50. About a quarter would go as high as $100 for a seat.
A winning Utah Jazz also puts the spotlight on our state. 77% think all this national TV exposure has a positive effect on Utah's image, which will no doubt continue if they keep winning!
The poll shows 52 percent would rather watch the game in person than on TV and 12 percent say they've purchased Jazz logo merchandise since the playoffs began.
One of those die-hard fans we caught putting on a Jazz jersey is 96 years young. Nellie Alkire moved to Utah in the early 90s and told us she fell in love with the Utah Jazz, watching them on TV.
Nellie knows all of the players and their stats, but she's all about the team and refused to pick a favorite player.
×
Most recent Utah stories