Estimated read time: 1-2 minutes
This archived news story is available only for your personal, non-commercial use. Information in the story may be outdated or superseded by additional information. Reading or replaying the story in its archived form does not constitute a republication of the story.
SALT LAKE CITY -- It appears former Utah Senate Majority Leader Sheldon Killpack and his attorney may have been looking for a favor from the Utah Attorney General's Office related to Killpack's DUI arrest and driver's license suspension.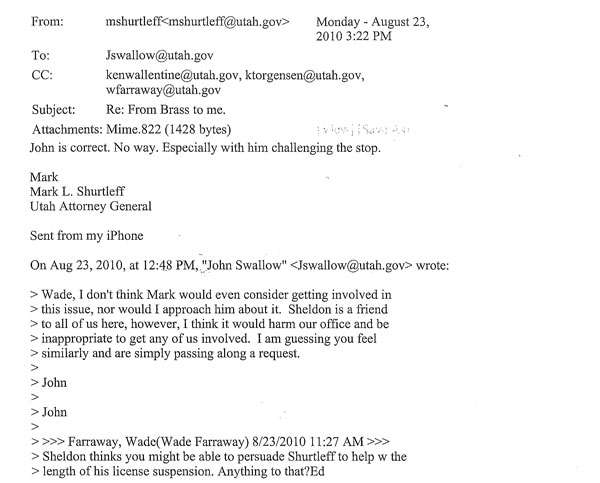 An e-mail chain obtained by KSL Newsradio shows Killpack's attorney on Aug. 23 sent a message to the attorney general's legislative liaison saying: "Sheldon thinks you might be able to persuade Shurtleff to help w (sic)the length of his license suspension. Anything to that?"
Killpack case background
Jan. 15, 2010Utah senator arrested on suspicion of DUI
Jan. 16, 2010Utah senator resigns following DUI arrest
Jan. 17, 2010Maneuvering begins amid shock waves from Killpack resignation
Jan. 28, 2010Senate president has wrapped up inquiry into Killpack's DUI arrest
Feb. 2, 2010Former Utah state senator charged with DUI
Feb. 12, 2010Killpack arrest video deemed public record
March 25, 2010Killpack seeking driver's license reinstatement
April 12, 2010 - Killpack in court for DUI case, says little
May 7, 2010 - Killpack claims January DUI stop was illegal
June 17, 2010Killpack DUI dashcam video released
Shurtleff later followed up: "John is correct. No way. Especially with him challenging the stop."
The e-mails were exchanged the day before a bench trial was scheduled to determine whether Killpack could get his driver's license back. It has been rescheduled for Sept. 17.
The case is being handled in the Salt Lake County Justice Court. The attorney general's office has no involvement.
Legal analyst Marguerite Driessen, who has taught ethics, says asking the attorney general for help isn't illegal and may not be unethical, but it is at least "fishy."
"You'd think that these communications would be taking place within the Salt Lake County Justice Court as opposed to an attempt to involve the state attorney general," Driessen said. "Does that really have a place in the efficient and ethical administration of a criminal justice case at the county level? I would say no, that's not the place for this."
Killpack was stopped near 700 East and 3300 South on the morning of Jan. 15. His blood alcohol level was 0.11, above the legal limit of 0.08. Investigators say Killpack also struggled through a field sobriety test and declined a Breathalyzer.
Killpack has pleaded not guilty to the charges facing him. He resigned from the Utah Legislature the day after his arrest.
E-mail: aadams@ksl.com
×
Related stories
Most recent Utah stories