Estimated read time: 2-3 minutes
This archived news story is available only for your personal, non-commercial use. Information in the story may be outdated or superseded by additional information. Reading or replaying the story in its archived form does not constitute a republication of the story.
SALT LAKE CITY -- Nearly every week, a certain foursome shows up at Glendale Golf Course in Salt Lake City for a friendly round of golf.
But this is no ordinary foursome. It's a group of brothers that grew up in Salt Lake and have stayed close for decades.
On Wednesday mornings at Glendale, it's time for another round for the Forsgren foursome.
"I always liked circuses, and boy this is a circus here," said Jim Forsgren. "Every week we have a circus."
"This will be a riot," chimes in brother Keith Forsgren.
It is hilarious when these brothers get together to play golf.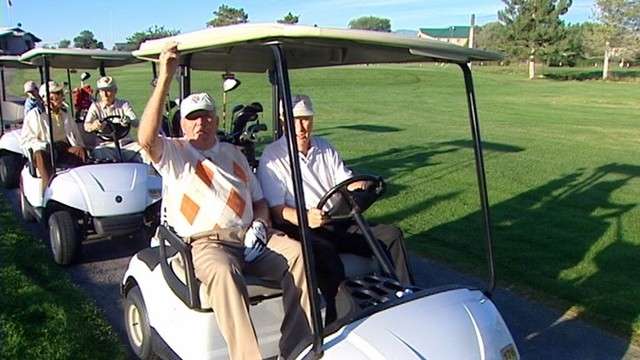 This weekly tradition began nearly 70 years ago. In fact, they remember when a round of golf was 35 cents.
This tradition was briefly interrupted when the South High graduates were all called off to war.
"I was with General Patton in the 3rd Army headquarters," said Bob Forsgren.
Bob is the baby at age 88. Then there's Jim at age 90, followed by Keith at age 92.
"Aren't you more than that?" Ferron jokingly says to Keith.
Ferron is the oldest brother at 94. "I'll be 95 in a couple of months," he said.
No matter their age, time out here isn't an issue. For the most part the game is friendly, though they have their share of disagreements.
"He cheats," Bob said with a laugh. "He'll get an eight and say, 'Oh, give me a half dozen.'"
Keith figures he'll have the highest score. "I'm going to shoot 98," he said.
"That would be a record for you," his brothers joke.
"Well, we're only going 9 (holes)," Keith replies.
A 98 wouldn't be bad, considering Keith is blind. But for the others, there are no excuses.
No one can take the place of the Forsgren brothers, who all hope by the time Ferron reaches 100 they're still out here.
"You know, we're lucky the four of us are still alive," Jim laughs.
The brothers credit their longevity to an active lifestyle and great genes: Their parents lived to be 92 and 88 years of age.
E-mail: kaiken@ksl.com
×
Photos
Most recent Utah stories