Estimated read time: 2-3 minutes
This archived news story is available only for your personal, non-commercial use. Information in the story may be outdated or superseded by additional information. Reading or replaying the story in its archived form does not constitute a republication of the story.
Samantha Hayes Reporting How many times have you heard someone say Utah drivers are terrible? That may be true, but the city of Miami was actually just listed as the worst city in the nation for road rage!
This is the second annual study by Autovantage, a leading national auto club. The aim of this study is to increase driver safety across the nation.
A lot of people like living in Salt Lake City because of what its not -- New York or Miami.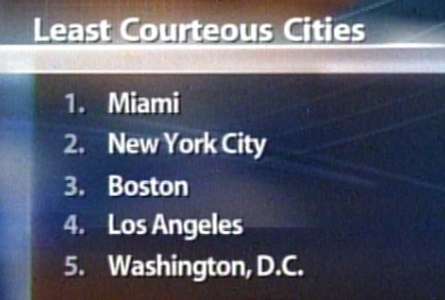 Preston Raban with the Utah Highway Patrol said, "I think Utah is comparable to any other state in the union."
According to a new study, the really enraged drivers can be found on the east coast. Miami is the least courteous city, followed by New York City, Boston, L.A. and Washington, D.C.
The study found the causes included: rude driving, speeding, tailgating, talking on cell phones and cutting other drivers off. All that really ticks other drivers off.
So when it comes to road rage, who is the worst behind the wheel? A lot of men say women and women say men. The study said it's younger drivers with long commutes who are most likely to react. There is no difference between men and women when it comes to road rage.
"Women can get just as frustrated as anybody else. Usually Highway Patrol gets involved when people try to run each other off the road, or doing something that can cause danger to the public or themselves. That's when we get involved and we find the majority tend to be men," Raban said.
The Utah Highway Patrol says it's time that reduces rage on the road. "When a person is on a time constraint, that drives stress levels up, which can make someone angrier faster."
So where are drivers the most courteous? You will still have to leave Salt Lake City! Those courteous drivers are found in Portland, Oregon, Pittsburgh, and the Seattle Tacoma area, as well as St. Louis and Dallas Fort-Worth.
×
Most recent Utah stories