Estimated read time: 2-3 minutes
This archived news story is available only for your personal, non-commercial use. Information in the story may be outdated or superseded by additional information. Reading or replaying the story in its archived form does not constitute a republication of the story.
Related:
LOGAN -- BYU's exit from the Mountain West Conference and failure to join the Western Athletic Conference as reported is leaving the remaining schools in the conference -- like Utah State University -- hanging.
Wednesday, USU Aggie athletic officials are cautiously optimistic that WAC officials will recruit more schools.
Utah State Athletic Director Scott Barnes admitted there will be challenges in the new makeup of the WAC that are serious -- but he says they're not insurmountable.
Scott Barnes has more than the upcoming football season on his mind these days. As the Aggies prepare to open the season in Oklahoma Saturday, the WAC faces serious challenges.
Fresno State, Nevada and Boise State all bailed out of the conference and will be joining the Mountain West Conference.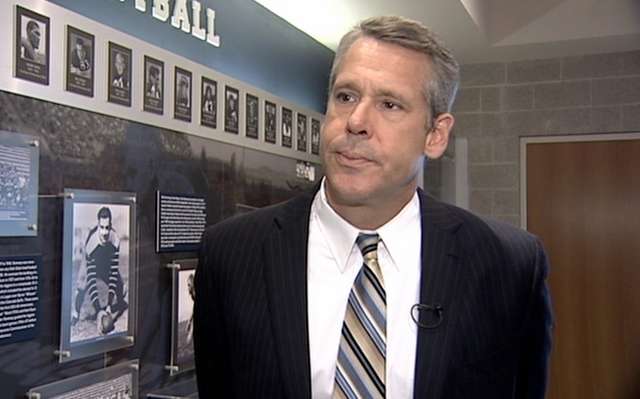 This happened just before BYU was expected to announce it would be joining the WAC for all sports but football, in which the team will be independent. Instead, BYU is turning to the West Coast Conference.
That leaves only six teams left in the WAC.
Wednesday, WAC Commissioner Karl Benson announced the conference is forming a membership committee in order to expand after 2011. Benson says he's confident there are teams that will add value to the WAC in the future.
In the meantime, Utah State isn't ruling out a relationship with the Mountain West Conference itself in the future, but Barnes is also open to working things out with the WAC.
Related:
"For us, we believe options are open in terms of whatever is on the landscape, and that means building on the WAC or looking elsewhere," he said.
BYU is on the Aggies' 2010 football schedule. The two teams will go head to head Oct. 1 in Logan. It's a rivalry Barnes says is as sharp as ever.
"I don't know if you could amp it up any more," he said. "It's been a great rivalry. We love to compete with BYU in all of our sports."
A larger question which no one seems to have the answer to is this: What's going on with schools making individual deals and backing out of conference contracts?
Barnes himself called it an "interesting trend." He says Utah State will be poised to take advantage of any opportunities it can in the future.
E-mail: rpiatt@ksl.com
×
Related stories
Most recent Utah stories