Estimated read time: 3-4 minutes
This archived news story is available only for your personal, non-commercial use. Information in the story may be outdated or superseded by additional information. Reading or replaying the story in its archived form does not constitute a republication of the story.
John Daley reportingWith Election Day just around the corner, campaign finance reform questions are likely to come.
Utah is considered a "wide open" state on regulating how much money special interest groups can give their favorite candidates.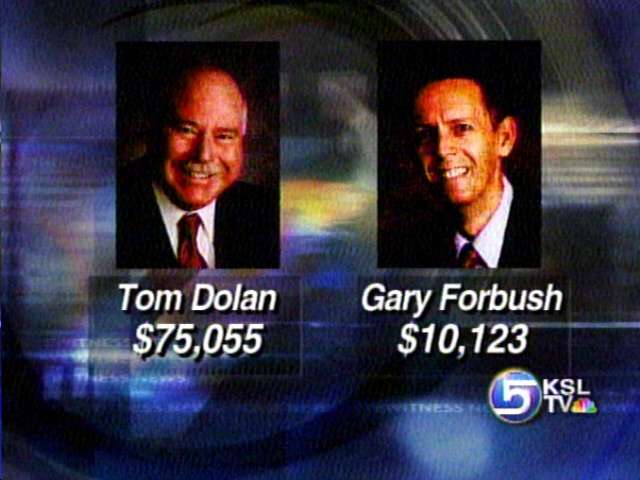 We've looked at campaign contributions in Sandy. We found a particularly close relationship between powerful real estate interests and a powerful incumbent mayor.
In Sandy, it's election season. If you think campaign signs are linked to campaign money, you're right says U of U political science professor Tim Chambless.
Tim Chambless, Political Science Professor, Uni. of Utah: "Money talks. Money is the mother's milk of politics."
According to disclosure filings released Tuesday, Republican Mayor Tom Dolan has raised $75,000 dollars, dwarfing the 10-thousand dollars given to his opponent Gary Forbush. Forbush biggest donors include opponents of a controversial Wal-mart development.
Dolan's list includes the big names:
Utah Jazz owner and Sandy developer Larry H. Miller...$10,000
Solitude ski resort owner Gary Deseelhorst $5000
Democratic power broker Randy Horiuchi. $1000
There are big contributions from outside Sandy:
Anheuser-Busch in Van Nuys California $2000
Waste Management in Houston $1000
ATK Aerospace in Magna $1000
... among others.
In all, three quarters of his money comes from outside of Sandy.
While most of the contributors to Dolan's campaign aren't from Sandy, they do have a business interest in the city. There are 80 new projects in Sandy, either recently built, under construction or slated for development.
The mayor has received a thousand each from the both property owners and the developer, The Boyer Company, which wants to build the controversial Wal-mart/Lowes project at this gravel pit. He also received 10-thousand dollars from developer Raddon Brothers, which has two big projects under construction in Sandy.
We asked the mayor if he's too tied to developers' money.
Tom Dolan, Mayor of Sandy: "Well, I certainly don't believe that. They're not buying influence. What they're doing is supporting me in my continued election cycle."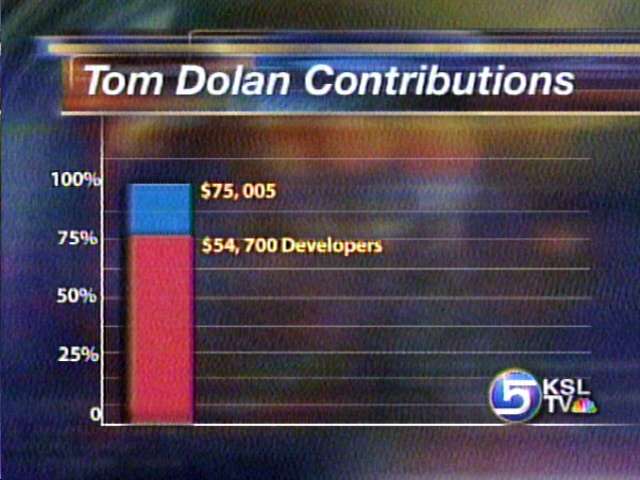 Seventy-three percent, nearly $55,000 of Dolan's total war chest, came from developers, realtors or other real estate interests.
Tim Chambless, Uni. of Utah Political Science Prof.: "He has the name recognition. He has the power of incubency. Money gravitates towards the incumbency."
The Salt Lake Board of Realtors recently jumped into the Wal-mart fight. They have been emailing their members and urging them to vote for Dolan and City council candidate Max Burdick, call them strong supporters of property rights, and saying "We really need our members to protect our industry in Sandy!"
They gave 8-thousand dollars to the Mayor.
Bryan Kohler heads the Board of Realtors.
Bryan Kohler, CEO, Salt Lake Board of Realtors: "Those seem like big sums of money that potentially could have a big impact on those races? They certainly could have an impact on those races and we certainly hope they do."
Many states ban contributions from corporations. Others set limits on how much you can give. But government watchdogs say in Utah it's a free for all. They say it's good for big moneyed interests. Good for well-connected politicians, bad for democracy."
The National Conference of State Legislatures found Utah is one of a handful of states with no limits on campaign contributions.
Jennie Bowser/Policy Analyst, National Conf. of State Legislatures: "It's one of just five that place no limits on how much a person, a committee, a party, a corporation can contribute to a candidate."
Tony Musci, Director, Common Cause of Utah: "Candidates who reap large rewards in campaign contributions are going to do better at the polling booth. And we are in a sense letting wealthy interests pick our politicians."
The voters will head to the polls two weeks on November 8th.
For the latest campaign filings from this race, click on the links above.
×
Related links
Most recent Utah stories