Estimated read time: 4-5 minutes
This archived news story is available only for your personal, non-commercial use. Information in the story may be outdated or superseded by additional information. Reading or replaying the story in its archived form does not constitute a republication of the story.
KANAB -- The arrest of a 23-year-old Arizona man early Monday morning put an end to a massive manhunt.
Scott Curley had been hiding from law enforcement officers for four days in the desert between Kanab, Utah, and Fredonia, Ariz. He was taken into custody peacefully Monday morning, thanks to a tip from an alert resident.
Curley is accused of shooting and killing Kane County sheriff's Deputy Brian Harris on Aug. 26. With Curley's arrest came a sense of relief that has allowed those who knew and loved Harris to turn their focus to the man whose life was taken so suddenly.
Kanab honors Harris with candlelight vigil
Monday night, a candlelight vigil in Kanab began with Harris' favorite song: "God Bless America." Family and friends say the song is reflective of a man who loved his country and his community.
"I've never really lost a close family member, but I'm sure this is what it feels like because it's devastating, absolutely devastating,'" said Rod Willis, a detective with the Kane County Sheriff's Office.
Many of the faces at the vigil were those of fellow law enforcement officers who consider themselves family.
"He would probably look down and say, 'You guys need to get over it and move on 'cause I'm OK,'" Willis said.
People were also thinking of Harris' wife and two daughters. They sold shirts to raise money for the family.
"Whether you know them or not, it's heart wrenching because we are such a tight-knit community," said family friend Wendy Allan.
Details of Curley's arrest
As the crowd honored Harris, his accused killer, Scott Curley, sat in a jail cell nearby.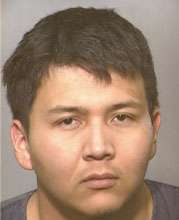 Deputies arrested Curley just before 1:00 Monday morning. They say he had no time to react when officers ambushed him outside a home several miles north of Fredonia, Ariz.
A homeowner in the Lost Springs subdivision called police when he saw a man with a rifle out on his patio. Law enforcement officers arrived to find Curley on the patio near a water tank and believe he may have been looking for food and water.
According to a SWAT officer, the homeowner says Curley was banging a barbecue cover and tipped over a chair.
Sheriff Lamont Smith with the Kane County Sheriff's Office said, "They used night vision [goggles]. That's why he was taken without any trouble. When they made themselves known, he didn't have anywhere to go."
Authorities say Curley seemed tired and hungry but did not appear to have any medical problems. He surrendered peacefully, and everyone was grateful for that.
"He realized that he did not have an escape route and he submitted to the officers without any problems," Smith said.
"We put pressure on him, both from an investigative standpoint as well as a tactical and field standpoint, and these efforts paid off," said Chief Deputy Jim Driscoll with the Coconino County, Ariz., Sheriff's Office.
"Our hope was the pressure we kept on him would have him make a mistake. I don't know if this is a mistake, but I think he's very fatigued, and this is the way we wanted it to come down," Smith added.
Family and friends relieved by arrest
News of the arrest came as a relief to Harris' family, who says the healing can now begin.
"It was just an overwhelming sense of relief, I think; some excitement that it was over," said Bert Harris, Deputy Brian Harris' brother.
Funeral services for Brian Harris
Viewing
Valley High School in Orderville
Thursday from 6 p.m. to 8 p.m.
Friday from 9:30 a.m. to 11:30 a.m.

Funeral
Valley High School
Friday at noon
"I'm extremely honored of the way people have looked up to Brian and the sheriff's department, as well as the family and friends, and I'm thankful and honored to call him my son," Bruce Harris said.
For Smith, he realized the gravity of what was before him every time he drove past the home of Harris' widow. When Smith got word of the capture of Curley, he didn't waste time.
"I called her before I left home," he said. "She was elated, she was overwhelmed, thankful."
Viewings for Brian Harris will take place Thursday from 6 p.m. to 8 p.m. and Friday from 9:30 a.m. to 11:30 a.m. at Valley High School in Orderville.
Funeral services will take place at the high school Friday at noon.
For those wishing to offer financial help* to Harris' family, they can do so at any State Bank of Southern Utah location or by going directly to the Kane County Sheriff's Office.
As for Curley, he's awaiting charges he is expected to face in Arizona. Authorities say Curley could face the death penalty.
E-mail: syi@ksl.com
---
*KSL.com has not verified the accuracy of the information provided with respect to the account nor does KSL.com assure that the monies deposited to the account will be applied for the benefit of the persons named as beneficiaries. If you are considering a deposit to the account you should consult your own advisors and otherwise proceed at your own risk.
×
Related stories