Estimated read time: 3-4 minutes
This archived news story is available only for your personal, non-commercial use. Information in the story may be outdated or superseded by additional information. Reading or replaying the story in its archived form does not constitute a republication of the story.
Team CoverageWe are in a drought. But now there are indications it could be worse than we thought because of the Pacific Ocean phenomenon called La Nina.
Officially, we're in a drought already, moderate in most of the state, extreme in southwestern Utah. It will undoubtedly make things tough for some farmers and ranchers.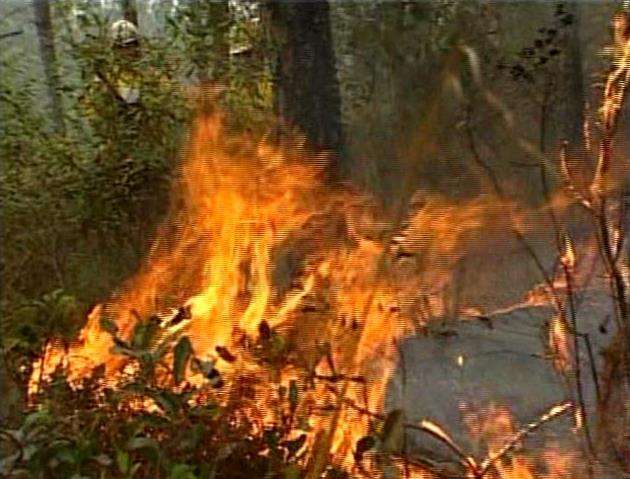 Next week, the state's drought committee will convene for the first time in two years. But the good news is people on municipal water systems got a break-- two decent water years put reservoirs in pretty good shape. Utah Director of Water Resources Dennis Strong says, "I don't believe we have a crisis because we have in most of the state very good water storage. We also have very good groundwater conditions because we've had two years of above-normal precipitation."
People on municipal systems are being strongly urged to conserve, though, to save water for next year. The dry outlook also raises concerns about wildfires. Jim Spring of the Utah Division of Forestry, Fire and State Lands says, "Probably above normal in some areas of the state, especially high-country areas. And the southwestern portion of the state, the potential for wild land fire we term 'extreme' this year."
Here's something you probably didn't know: A whopping 83 percent of Utah's water is not used in cities. It goes to farms and ranches.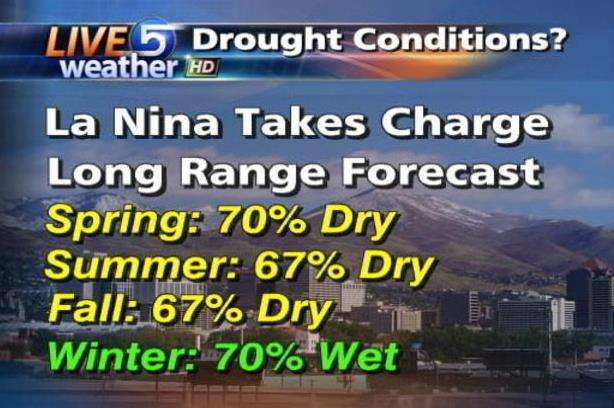 Even with the wet years of 2004 to 2006, we are well below normal precipitation for the past eight years.
The latest information from the National Oceanic and Atmospheric Administration indicates La Nina will strengthen later this summer and fall. As La Nina takes charge, some interesting facts emerge. Spring, summer and falls are forecasted to be dry. That means a continued trend to worsening drought. There is one positive outlook for the La Nina condition: The winter outlook has a 70 percent chance for wetter-than-normal weather.
Water planners are trying to beef up the supply for growing cities, by taking advantage of what the farms they are replacing.
It's still possible to find farmland in Kaysville. But it's not like it was when Joel Van Berkun came 15 years ago. "When I moved in, it was all farm, except for two houses," says Berkun. By next year, half of Kaysville's farmland will have vanished. The old Webster Farm is literally becoming Webster's Farm Subdivision. Van Berkun wants to move out. "For me, I would prefer to live in a more rural area like I moved in. Now, it's almost all subdivisions."
In Utah, agriculture gets an astonishing 83 percent of all the water used, while city water systems are being pushed to their limits by growth. "We cannot continue to just go out and develop new water and think it's an endless supply," says Tage Flint from the Weber Basin Water Conservancy District.
In the past, city water has usually been provided for new homes and lawns. The farm water has typically been sold somewhere else or just wasted downriver to the Great Salt Lake. In much of Davis County, developers are now required to convert farm water to city water before getting a building permit. The farm water is transferred to the city, and the water district treats some for drinking. The rest goes onto lawns and gardens.
State officials hope the concept will catch on and allow communities to continue growing. Not exactly what Joel Van Burken wants to hear as he looks for a new home with that rural feel. He says, "It's difficult. I haven't found one yet. That's why I haven't sold this one yet."
Farmers and ranchers will likely continue to get the lion's share of Utah's water, but the balance is beginning a very slight shift.
×
Most recent Utah stories