Estimated read time: 3-4 minutes
This archived news story is available only for your personal, non-commercial use. Information in the story may be outdated or superseded by additional information. Reading or replaying the story in its archived form does not constitute a republication of the story.
SALT LAKE CITY -- A Salt Lake City police officer shot and killed a man in a busy downtown intersection. New photos show the suspect was in full military gear and armed to the teeth.
The shootout happened just before 4 p.m. Friday at 600 South and State Street after police received a call about a man with a gun walking back and forth along State Street in the vicinity of the Grand America Hotel.
Within seconds of Salt Lake City officers arriving on scene, shots were fired. Witnesses reported hearing about 10 or 12 shots.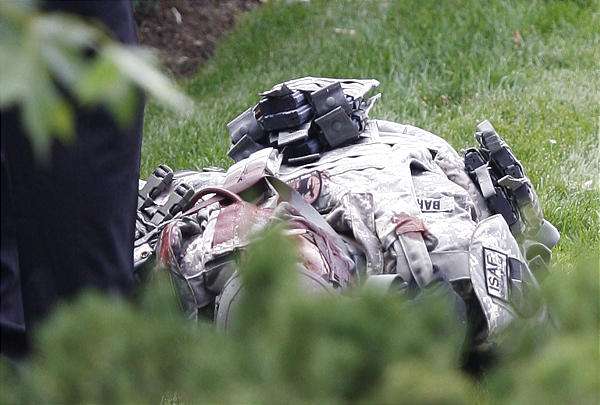 The officer, a patrolman who's been with the department several years, was shot in the leg. He in turn, shot and killed the the suspect.
"The officer has very minor injuries at this point, so we're happy about that," said Sgt. Robin Snyder with the Salt Lake City Police Department.
Late Friday night, police identified the man who was killed as 28-year-old Brandon S. Barrett. They say he is believed to be a U.S. Army veteran most recently stationed at Joint Base Lewis-McChord in Tacoma, Wash.
A photo taken by Desert News photographer Tom Smart shows Barrett's body on the ground with 11 clips of ammunition strapped to him, a helmet barely visible, but an ISAF patch clearly visible. ISAF stands for International Security Assistance Force -- a NATO led team conducting operations in Afghanistan.
Witnesses say they saw Barrett in full military fatigues, black combat boots and a mask, carrying an assault rifle.
---
I heard that the store manager said, 'Get in the back, there's shooting outside,' so they had us go hide in the back.
–Jamie Davis, local store owner
---
According to the Deseret News, Barrett told two witnesses in the parking lot of the hotel he was "in training."
All things considered, police say it's a wonder no one else was hurt.
"This is probably one of the busiest intersections in Salt Lake City, especially the time of day. It was about 3:30 in the afternoon," Snyder said.
Salt Lake City resident Jessica Cook was cleaning her house when she thought she heard shots.
"My music is so loud, and I heard the gunshot over the music," she said.
She was shocked to find officers up and down the street she lives and works on.
The owner of a clothing store said he looked outside to see armed officers with what he thought were AK-47 assault rifles.
"I heard that the store manager said, 'Get in the back, there's shooting outside,' so they had us go hide in the back," Jamie Davis said.
Several bullets hit the windshield of the police officer's car, as well as in the sides of at least one vehicle that was in the area at the time.
Police say two investigations have been opened following this incident. The first will be handled by internal affairs that will look into the actions of the officer, who has been placed on paid administrative leave. The second is a criminal investigation that will be launched by the Salt Lake County District Attorney's Office.
These kind of investigations are standard procedure for such incidents.
-----
Story compiled with contributions from Sarah Dallof, Paul Nelson and Cleon Wall.
---
×
Photos
Most recent Utah stories