Estimated read time: 1-2 minutes
This archived news story is available only for your personal, non-commercial use. Information in the story may be outdated or superseded by additional information. Reading or replaying the story in its archived form does not constitute a republication of the story.
Alex Cabrero Reporting By now most of you know how the Jazz did in game 3 against Golden State. It's still a fresh memory -- too fresh. But what about your most memorable moment in Jazz history?
We got an idea today of what single moment Jazz fans will never forget.
Scott Arnold is a huge Utah Jazz fan. So we asked him, "Of all the moments in Jazz history, what's your favorite one?"
"It's got to be the Stockton shot," he answered.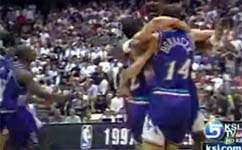 Yeah, the Stockton shot. Ask any Jazz fan.
April Jensen agreed, "When John hit that three-point shot."
Bryan Samuelson also said it was when "Stockton hit that shot against Houston."
That shot is so memorable that everybody we asked named it first. So, we had to start asking fans, "Besides the Stockton shot, what Jazz moment is most memorable to you?"
Scott Armstrong remembers when the team moved to Salt Lake from New Orleans.
Travis Jensen remembers a shot which technically isn't a great Jazz moment, but it happened here.
"When [Michael] Jordan sunk the three-point shot," he said.
And then we heard a lot about Derek Fisher's shot the other night, the one he made after his daughter had cancer surgery.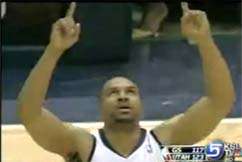 "He comes in like the fourth quarter," Bryan Samuelson told us, "and then just a huge shot, just drains it. It's just awesome."
In Jordan Chase's opinion, "That was sad, but it's cool how he came in."
We also heard about Karl Malone winning the MVP, and Malone and Stockton winning the All-Star Game Co-MVP awards. But I think everyone agrees the most memorable moment is the Stockton shot.
In a few weeks, though, that could be the second most memorable moment, if the Jazz win it all.
×
Related links
Most recent Utah stories