Estimated read time: 2-3 minutes
This archived news story is available only for your personal, non-commercial use. Information in the story may be outdated or superseded by additional information. Reading or replaying the story in its archived form does not constitute a republication of the story.
Photo credit: Jeff McGrathSALT LAKE COUNTY -- Utah Highway Patrol troopers are investigating two wrong-way crashes that occurred hours apart Wednesday. Those kinds of accidents happen more often than you might think.
On Interstate 215 Wednesday morning, 71-year-old Donald Swenson drove his Camry on the wrong side of the freeway near 2300 East and slammed into a semi truck, causing flames and explosions and smoke seen throughout the valley. The crash killed the elderly driver and sent the trucker to the hospital.
It was certainly one of the worst wrong-way crashes seen in some time, but the UHP says hundreds of drivers go the wrong direction on the freeway and it often ends badly.
2008 Wrong-Way accidents
86,500 Total Accidents
346 Wrong Way
28 Fatal
142 Injury
176 Property Damage
Source: Utah Department of Public Safety
The I-215 accident was a horrible example of what can happen when a driver mistakenly goes the wrong way on a freeway. Just when everyone was about to write it off as a rare fluke accident, another driver made the same error later that night on another stretch of highway.
"It does seem to be a little unusual," said Sgt. Larry Mower with the Utah Highway Patrol. "It seems like, for some reason lately, we've had more than we've had in the past."
In fact, from August of last year to July 2010, troopers have reported 33 wrong-way collisions. That's actually way down from 2008.
The Utah Department of Highway Safety says out of 86,500 accidents statewide, 346 were wrong-way accidents, 28 of those were fatal, 142 were injury crashes and 176 had just property damage.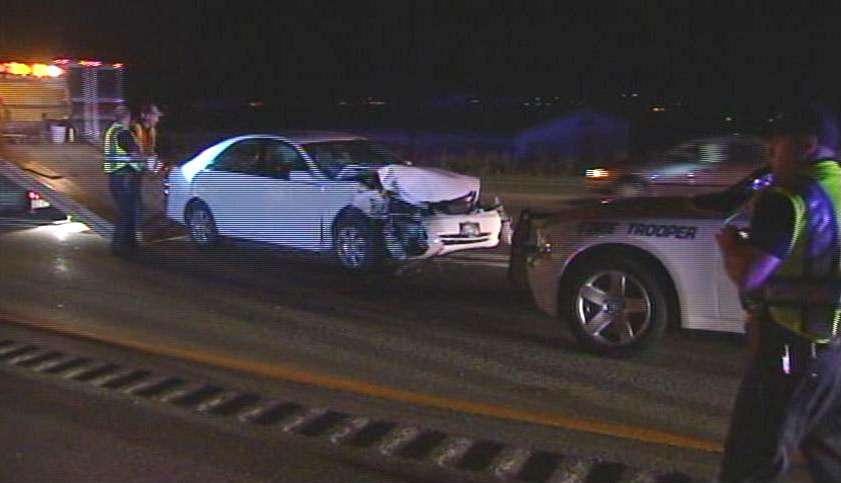 "Once I got looking into the numbers I was a little bit surprised myself," Mower said.
Wednesday night around 9 p.m., troopers say a woman under the influence of prescription medication slammed head-on into a trooper's car on I-15 in the American Fork-Lehi area. Both were okay, but troopers took the woman into custody.
In the I-215 crash investigators are still trying to figure out why Swenson tried to make a U-turn on the freeway. He didn't have medical problems and wasn't suicidal.
Troopers say sometimes people just get turned around.
They also say these two accidents prove that it can happen to anyone -- a younger woman, an elderly man or anyone in between.
"You would tend to think that it'd be more the elderly people that kind of get disoriented," Mower said. "We have had a couple of those, but we have young people that do it."
The truck driver who was injured in the I-215 crash has been released from the hospital. The driver in the I-15 accident was treated at the scene for some bumps and bruises before she was taken into custody. No other injuries were reported.
E-mail: ngonzales@ksl.com
×
Related stories
Most recent Utah stories