Estimated read time: 2-3 minutes
This archived news story is available only for your personal, non-commercial use. Information in the story may be outdated or superseded by additional information. Reading or replaying the story in its archived form does not constitute a republication of the story.
SALT LAKE CITY -- Residents living near East High School have noticed a slight oil sheen on the spring water near their homes for more than a month. Now the health department says the water has tested positive for a hazardous chemical.
Health officials say they don't know how long the chemical has been in the spring water in this area -- or where it came from.

Salt Lake Valley Health Department Info on PCE
Salt Lake City has determined that some private springs contain perchloroethylene (PCE), primarily in the areas from 700 South to Michigan Avenue and 1100 East to 1300 East. The drinking water is safe but recommends using municipal water rather than groundwater for any food cultivation.

For further questions, contact Salt Lake Valley Health Department at 801-313-6700.
The levels are low, but they wanted to warn residents about the contamination.
Employees from the Salt Lake Valley Health Department (SLVHD) are hitting every house in the neighborhood between 700 South and Michigan Avenue and 1100 East to 1300 East. They're warning residents about a toxic chemical found in the springs near their homes.
"There is something that was found in the surface water that's behind their houses in this area," said Teresa Gray with the SLVHD.
In July, residents contacted KSL after they noticed a strange oily sheen on the water. They thought it might be connected to the Red Butte Chevron oil spill that shut down the Liberty Park pond and launched a massive cleanup.
But the health department believed it was coming from a different source -- and after KSL alerted them to the problem, they performed water quality tests at multiple spots around the area.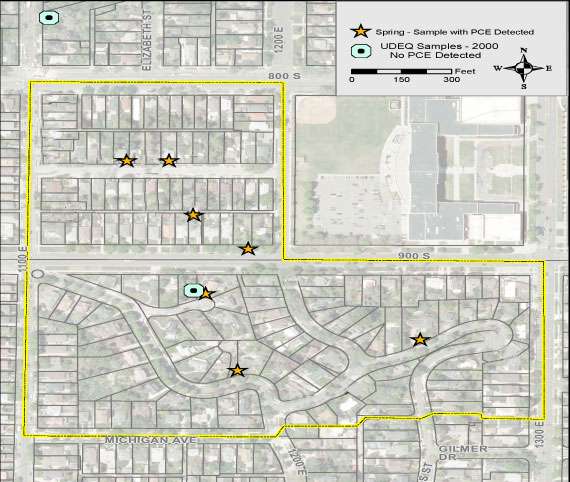 They didn't find any trace of oil, but they did find something else. These areas came back positive for a chemical called perchloroethylene, or PCE.
"PCE is commonly referred to as like a dry-cleaning solution or can be used as a solvent for automotive parts," Gray said.
When consumed over long periods of time and in large amounts, PCE can cause dizziness, headaches and, in extreme cases, kidney problems and other serious health problems.
The PCE levels that were found in the neighborhood are very low, but the spring water is not safe to drink.
They say tap drinking water running into the homes is not affected. Still, some residents are still concerned.
"With them not knowing exactly where the leak is, it's a little nerve wracking," said homeowner Shandie Pulsipher.
Health officials are in the beginning stages of determining how they'll clean up the chemical. They still don't know where the oil sheen came from. The say PCE wouldn't leave a sheen on the water.
E-mail: jstagg@ksl.com
×
Related links
Related stories
Most recent Utah stories