Estimated read time: 2-3 minutes
This archived news story is available only for your personal, non-commercial use. Information in the story may be outdated or superseded by additional information. Reading or replaying the story in its archived form does not constitute a republication of the story.
LEHI -- A toddler is in critical condition after being trapped in a metal table similar to a TV tray. The incident happened at a home in Lehi shortly before 8:30 Tuesday morning.
The extent of the boy's injuries are surprising. The 3-year-old was flown from a Traverse Mountain neighborhood to Primary Children's Medical Center with serious injuries to his chest.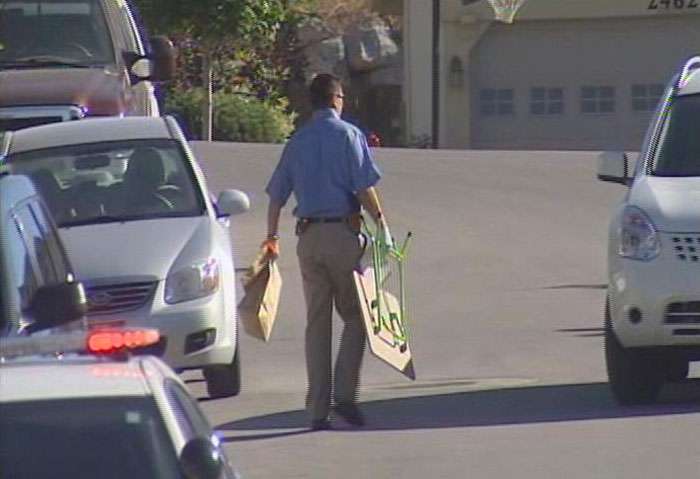 According to Lehi police, the toddler woke his mother, then went to play with his 18-month-old sister.
While the mother was in the kitchen, she heard a loud crash coming from the room the children were playing in. When she went to check on the kids, the toddler was on top of the table. The tray had collapsed, but the toddler appeared to be fine.
The mother told police she returned to the kitchen, and a short time later went back to check on the kids. That's when she found the toddler trapped inside the scissor legs of the table, struggling to breathe, with his sister on top.
Lehi police Lt. Darren Paul said, "My understanding is that the legs were ... making it difficult for him to breathe. And as the younger sister was on the table, it was putting even more pressure on his chest, making it hard to breathe."
Police were not sure if the child was unconscious or how long he had been trapped in the table, but a family friend says the child had been knocked out when his mother found him.
That friend, William Isham, says this is just a freak accident and that the children are always in good care.
"For sure, it was freak accident," Isham said. "She's a good mother. Her kids are great."
Police say at this point the story the mother told them does appear to match with the child's injuries. They will continue their investigation and hope to know more when they talk to doctors at the hospital.
Meanwhile, child advocates at Primary Children's Medical Center are reminding parents of how dangerous some seemingly-harmless household items can be. They're asking parents to check their homes for safety hazards and supervise their children.
"There are so many freak accidents that happen, but really they're not all freak accidents because there are safety measures we can implement in our homes," said Janet Brooks, child advocacy manager at Primary Children's.
Brooks said parents should consider doing a room-by-room crawling survey to eliminate any risks their children might encounter. She said she understands parents can't always be there, and that's why prevention is key.
For more tips on how to make your home safer CLICK HERE.
-----
Story compiled with contributions from Shara Park and Randall Jeppesen.
×
Related links
Most recent Utah stories