Estimated read time: 3-4 minutes
This archived news story is available only for your personal, non-commercial use. Information in the story may be outdated or superseded by additional information. Reading or replaying the story in its archived form does not constitute a republication of the story.
WEST VALLEY CITY -- Police are asking for help identifying two men who broke into a construction site in West Valley City and stole a lot of expensive equipment.
"I showed up to work and there were cops out here and this kind of stuff," said Tyler Gurule. He works for a metal framing company involved in the construction of the Granite School District's new kitchen facility in West Valley City.
Gurule saw the police on Monday after workers at a construction site near 4100 West and 2200 South noticed expensive equipment was missing.
It was a bold crime, committed in broad daylight.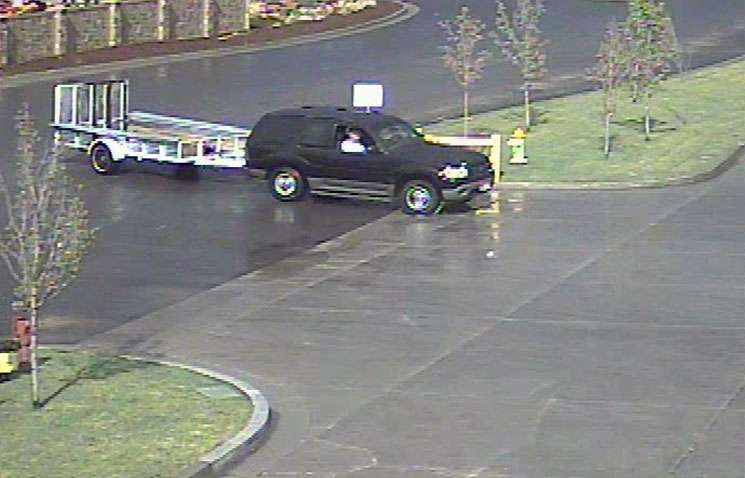 "There was a chain cut on a fence that accessed the construction site," says West Valley Police Sgt. Mike Powell.
The men loaded $60,000 worth of equipment on a trailer and drove away.
"It was a Saturday, so the area wouldn't have been quite as busy as a regular work day, and it would appear they would have known what they were looking for," Powell says.
Surveillance photos show two men in a black SUV cutting the chains on the gate and taking the equipment. Police released the photos in hopes that someone recognizes the suspects or their vehicle and can help solving the crime.
Police say construction sites aren't unusual targets for thieves, but in West Valley this type of crime isn't happening more often than in past years.
That also holds true for statistics statewide.
Earlier this week, a report from the Utah Bureau of Criminal Identification showed property crimes were down 2.36 percent from 2008 to 2009.
But it was later discovered the numbers comparing statistics from those years were inaccurate.
---
Property crimes -- which include larceny, motor vehicle theft, arson and burglary -- are still down, but only by 0.24 percent.
---
"The numbers that should have been for 2008 were actually for 2007 numbers, so we realized there was an error there," says Alice Moffat, Bureau Chief for the Bureau of Criminal Identification, which compiles the numbers.
The revised report, released Wednesday, shows property crimes -- which include larceny, motor vehicle theft, arson and burglary -- are still down, but only by 0.24 percent. Burglaries alone showed a minimal increase of 5 percent.
Workers at the West Valley construction site say what happened here is a reminder that it can be easy to be a victim.
"They just got to lock everything down, make sure to double check everything and make sure to lock everything down securely," Gurule says.
Anyone with information on the construction site theft is asked to contact West Valley City Police at 801-840-4000.
E-mail: syi@ksl.com
---
×
Photos
Related links
Related stories
Most recent Utah stories