Estimated read time: 2-3 minutes
This archived news story is available only for your personal, non-commercial use. Information in the story may be outdated or superseded by additional information. Reading or replaying the story in its archived form does not constitute a republication of the story.
Sarah Dallof ReportingPolice say a wife wanted to surprise her husband. She blindfolded him and took him to a condo. Officers say that's where the surprise turned out to be an attack.
"The bottom line, it ended up with him being assaulted with a hammer," said Lt. Paul Jaroscak of the Salt Lake County Sheriff's Office.
Amazingly, the man, who was hit multiple times, escaped with only minor cuts to his head.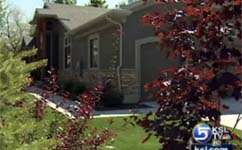 The attack took place in a condo in Holladay that belongs to the couple's in-laws, who weren't home at the time. The couple was apparently out on a date. They ended up in the basement of the condo, where the attack happened.
Lt. Jaroscak explained, "His story was that she had promised a surprise for him, and had actually blindfolded him."
The surprise Joel Ricks was expecting from his wife, Amy, probably isn't what he reportedly got. Amy Ricks, 34, allegedly hit her husband at least six times with the hammer before he ran out of the condo and called 911.
Meanwhile, Amy Ricks also left the condo and was on the phone with police.
"Our dispatch told her to wait at that point, and we found her and talked to her," Lt. Jaroscak said.
Amy Ricks was picked up about two miles from the condo.
She told deputies a different version of what happened. Investigators can't say how the husband's and wife's accounts differ because it's part of the investigation. But after hearing from both people, deputies arrested Amy Ricks for aggravated assault.
"In a 30-year career, I've heard about hammers being used in an assault, but it's been a long time," Lt. Jaroscak told us.
Joel Ricks is out of the hospital and back at home. He declined our request for an interview.
The case now goes to the district attorney, who will review it for charges and explore why a wife would allegedly attack a husband so violently.
Investigators with the Salt Lake County Sheriff's office say they have no reports of any problems between Amy and Joel Ricks. They are still looking for the hammer that Amy is accused of using in the attack.
×
Most recent Utah stories