Estimated read time: 3-4 minutes
This archived news story is available only for your personal, non-commercial use. Information in the story may be outdated or superseded by additional information. Reading or replaying the story in its archived form does not constitute a republication of the story.
SALT LAKE CITY -- One of the most neglected streets in Salt Lake City is getting the biggest investment of cash this year, and it's all because TRAX is also being installed there.
---
From rebuilding the North Temple viaduct and the center of the street TRAX line, a grand total of $450 million is dedicated to this area.
---
But improvements on North Temple also depend on business owners chipping in, and in some cases that has been a tough sell.
It's one of the most anticipated TRAX extensions in Utah: the line to Salt Lake International Airport. But between the airport and downtown, plans along North Temple are also a big deal.
In fact, after decades of being the "forgotten gateway" to the capitol city, this underdeveloped street is about to get a major infusion of cash.
"At least within the city confines, this is the largest public improvement project that we've pushed forward," said Salt Lake City Council Member Carlton Christensen.
From rebuilding the North Temple viaduct and the center-of-the-street TRAX line, a grand total of $450 million is dedicated to this site.
That includes "beautification upgrades" for the area -- more expensive, but improvements that some say will make a huge difference in the surrounding neighborhood. Those include decorative street lights, professional landscaping, wider sidewalks and bike lanes.
The catch is that those improvements require businesses and land owners along North Temple to chip in some cash themselves. That means property owners need to come up with about 5 percent of the project cost, which is between $2 million and $3 million collectively.
Many between the viaduct and Redwood Road eagerly agree the short-term investment is worth it.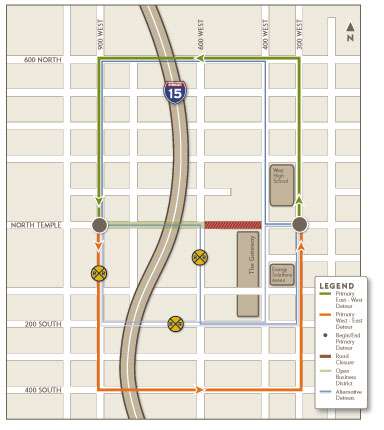 "I'm excited about it, I can't wait for it to come to fruition," said Pene Funaro with Diamond Lil's restaurant. "I think it'll start the development on the whole west side of North Temple all the way from 600 West to the airport connection."
North Temple property owner Preston Menlove said, "It's a 20-year outlook, but it will happen and it will be a lot safer than it is now."
But according to the city, 60 percent of land owners -- mostly west of Redwood Road -- aren't interested in paying extra.
There's even a chance those naysayers could set the project back. That potential frustrates those who have been fighting to get the city to invest here.
"If it's not a safe, lit area, then there's no sense in having TRAX run down here in the first place," Menlove said.
One possible fix is to change the zoning to allow for a patchwork of improvements rather than risk any portion of the $45 million Salt Lake City is putting into the project. If that doesn't happen, some council members say they'll vote to cut the funding, which would keep North Temple more status quo than transformed.
E-mail: rpiatt@ksl.com

View North Temple Construction in a larger map
×
Related links
Related stories
Most recent Utah stories