Estimated read time: 2-3 minutes
This archived news story is available only for your personal, non-commercial use. Information in the story may be outdated or superseded by additional information. Reading or replaying the story in its archived form does not constitute a republication of the story.
SOUTH SALT LAKE -- Officials from the Salt Lake City School District are praising police for finding the man accused of stealing catalytic converters from a fleet of vehicles. Police recovered most of the parts Thursday.
However, the district may now have to get rid of them.
The Salt Lake City School District says 12 trucks were affected by the theft, down from the 19 originally reported. All but two of them have already been repaired, so most of the recovered parts can't be reused.
"We had to order new ones, because obviously we didn't know if they'd ever be found," said Mike Williams with the Salt Lake City School District.
Buying new catalytic converters cost between $12,000 and $14,000, so the district says it will look into selling the recovered parts and getting as much money for them as it can.
"We're going to have to sell them, we're going to figure out some way to dispose of them where we can get some return on investment," Williams said.
The district is now trying to find out if some of the catalytic converters can be re-installed in the remaining two trucks left to be fixed.
The district is also looking at possible security changes after the theft.
The theft disrupted its summer lunch program because the fleet of vehicles are used to deliver lunches to schools in that program. On Monday, a thousand kids in the district had to be redirected to other lunch sites.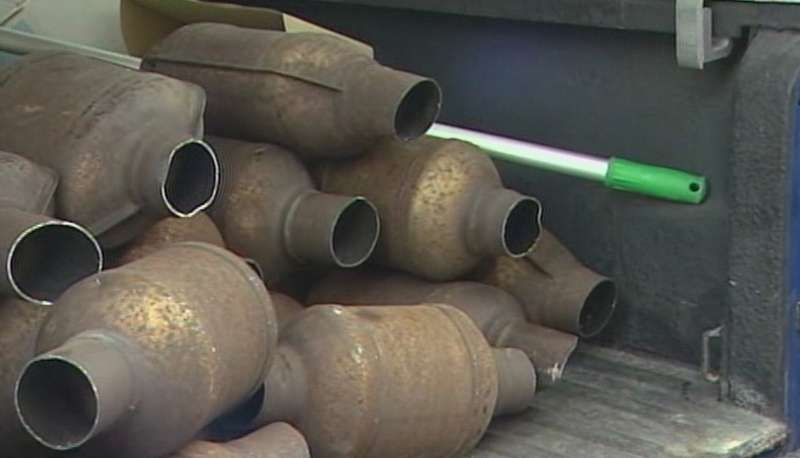 "Of course it's frustrating. We have an operation that is very timely, very efficient," said Kelly Orton, Salt Lake City School District director of Support Services. "When this thing happens, it just throws us into a tailspin. But we took care of it."
Thursday, a tip led police to a storage shed in South Salt Lake where 28-year-old Tyson Anderson was living. Police found 20 catalytic converters, along with other stolen goods.
Police say they are working with other law enforcement agencies to identify the owners of the stolen property.
The surveillance footage that led to the tip, released by police earlier in the week, came from a nearby business.
"We're looking at the camera system, looking at what we have," Orton said. "We always reevaluate when something like this happens. We're just grateful we had a good picture of the theft."
Surveillance video of the catalytic converter theft showed a woman acting as a lookout for Anderson. Anderson told police she wasn't involved, but police say she is still a person of interest and they're looking for her so they can talk to her about it.
------
Story compiled with contributions from Sandra Yi and Paul Nelson.
×
Related stories
Most recent Utah stories