Estimated read time: 2-3 minutes
This archived news story is available only for your personal, non-commercial use. Information in the story may be outdated or superseded by additional information. Reading or replaying the story in its archived form does not constitute a republication of the story.
SALT LAKE CITY -- Deseret Book will soon release an official biography of Thomas S. Monson, president of The Church of Jesus Christ of Latter-day Saints. Called to be a bishop at age 22, and as an apostle at age 36, President Monson has lived a remarkable life.
Many Utahns may recognize the biography's author, Heidi S. Swinton. She is known for her PBS documentaries "American Prophet" or "America's Choir."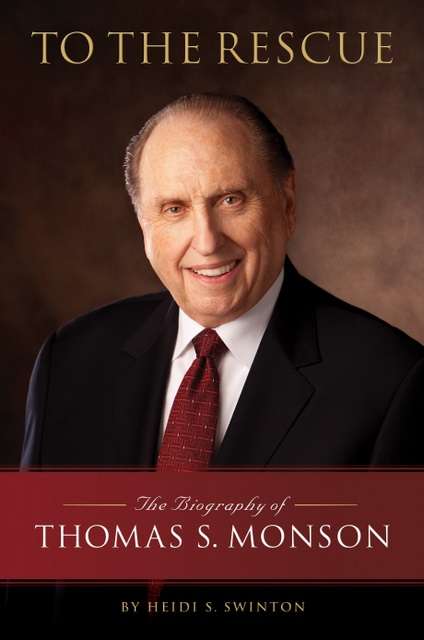 President Monson well-known for his touching, personal stories is seen up close as Swinton brings readers in to the more intimate experiences of his youth and ministry.
The book's title, "To the Rescue" is indicative of President Monson's reputation as a selfless man of service.
"You see in this book that he's a prophet for all, but he really ministers to the one. That's one thing that I think he's known for, but you see even more deeply in this book that he is anxious to reach out to the individual," says Cory Maxwell, director of publishing at Deseret Book.
The biography tells of everything from his childhood fascination with pigeons to his service in the U.S. Navy during World War II, his professional life in printing and, of course, his service in the Church.
"This will be the first book that really focuses exclusively on the life and ministry of President Monson," Maxwell says.
A native Utahn, President Monson has traveled the world providing service for thousands. In church leadership positions since age 22, he is still known now at 82 for his tender heart and inspiring words.
"Stated simply, if we do not have to keep a foundation of faith and a solid testimony of truth, we may have difficulty withstanding the harsh storms and icy winds of adversity which inevitably come to each of us," President Monson has said.
Deseret Book President and CEO Sheri Dew said her company is excited to publish the biography.
"For more than 140 years, Deseret Book has published many extraordinary books, but few things rise to the level of the biography of a prophet, particularly a living prophet," Dew said. "We are honored to publish this biography at this time, the story of a remarkable man, and the leader of The Church of Jesus Christ of Latter Day Saints."
The 608-page book, which includes dozens of photos spanning President Monson's lifetime, will go on sale Sept. 27.
E-mail: kmccord@ksl.com
×
Related links
Most recent Utah stories