Estimated read time: 2-3 minutes
This archived news story is available only for your personal, non-commercial use. Information in the story may be outdated or superseded by additional information. Reading or replaying the story in its archived form does not constitute a republication of the story.
SALT LAKE CITY -- Too close to call: That's how ethics reform advocates describe their fight to get a sweeping package of legislative ethics changes on the ballot.
The group Utahns for Ethical Government faces a deadline next week and is zeroing in on the central and southern parts of the state to get a final several thousand signatures to push it over the top.
---
If this issue cannot make the ballot, then the public will not have a reasonable opportunity for any initiative in the future.
–Sheryl Allen, candidate for Lt. Governor
---
By Aug. 12, the group needs to get a certain number of signatures in 26 of 29 legislative districts to put their petition on the ballot. Leaders say they're there, or very close, in 22 of the 26 districts.
"We are moving excitedly, and we will be there. But we still need much work to be done," says Kim Burningham, co-founder of Utahns for Ethical Government.
At a news conference Tuesday, leaders of Utahns for Ethical Government were joined by Salt Lake County Mayor Peter Corroon; he is also the Democrat running for governor and his running mate is Republican Sheryl Allen.
"Ethics, again, is not a Democrat or Republican issue," Corroon said. "It's about sending a message to our citizens that legislators will hold themselves to high ethical standards."
"It is not only a referendum on legislative ethics, it's a referendum on the initiative process," Allen said. "If this issue cannot make the ballot, then the public will not have a reasonable opportunity for any initiative in the future."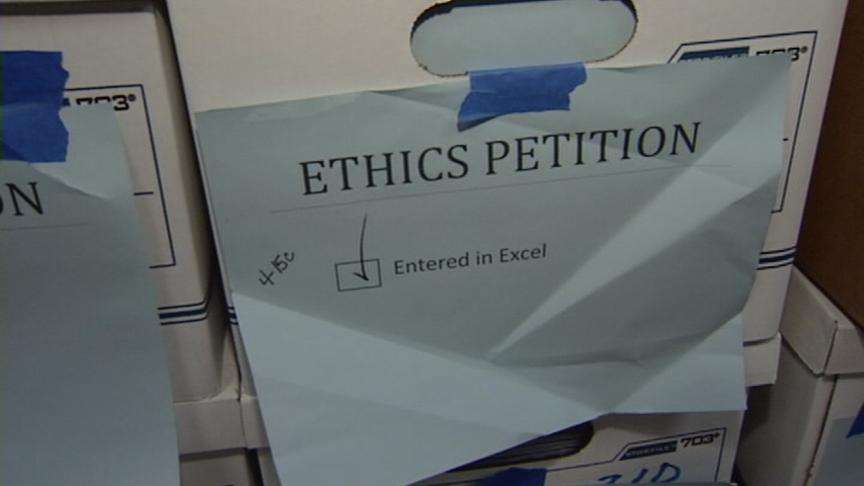 Top lawmakers in the Republican majority argue the effort is unnecessary, as the Legislature has passed several meaningful reform measures in the past couple of years.
"They have done zero about adopting a code of conduct, and the process that they have adopted is a secretive process that is not transparent," said David Irvine, with Utahns for Ethical Government.
A key measure in the petition would ban campaign contributions to legislative candidates from corporations and unions and set a limit for an individual of $2,500.
A spokesman for the Lieutenant Governor's Office declined KSL's request for an interview, in light of the outstanding legal issues in the case.
The two sides disagree about the deadline for gathering signatures, an issue likely headed to court.
E-mail: jdaley@ksl.com
×
Related links
Related stories
Most recent Utah stories