Estimated read time: 2-3 minutes
This archived news story is available only for your personal, non-commercial use. Information in the story may be outdated or superseded by additional information. Reading or replaying the story in its archived form does not constitute a republication of the story.
Carole Mikita Reporting Another night of big ratings for Utah's PBS stations, and today, response both - positive and negative - came both from leaders of The Church of Jesus Christ of Latter-day Saints and viewers who watched part two of "The Mormons."
In a statement today, Latter-day Saint church leaders called the two programs "thought-provoking," saying producer Helen Whitney probed both the center and edges of the faith's history and beliefs. Both church leaders and Ms. Whitney received a wide range of comments on different Web sites today.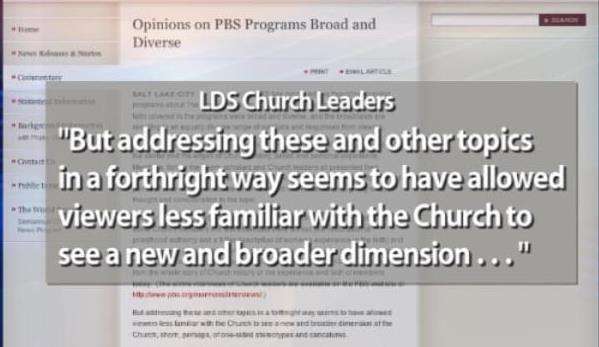 Since the airing of PBS's "The Mormons," comments from inside and outside the faith have been many and varied.
Sterling Van Wagenen with BYU Broadcasting said, "It gives us a real window, I think, as Latter-day Saints into how we are perceived in the world, and I think in a fairly sophisticated way."
A statement from LDS Church leaders reads, "...even four hours and numerous interviews can't cover everything. No doubt, some church members will feel essentials were left out...But addressing these and other topics in a forthright way seems to have allowed viewers less familiar with the Church to see a new and broader dimension..."
From viewers to the Church's official Web site, some comments read: "This piece will only open up a greater dialogue," posted Cary from San Jose, and "I am amazed at the concerted effort to find all the malcontents...," said Judy from Washington
The program's producer, Helen Whitney, answered viewers' questions this morning on the Washington Post's Web site.
A question from Shafer, Minn., asked, "How difficult is it to balance the academic points of view with faith-based perspectives...?" She replied, "...it is extremely difficult to get inside a religion and understand something that is essentially ineffable..."
From Alpine, Utah, it was asked: "What is your own personal feeling about Joseph Smith?" to which she replied, "Joseph Smith is a truly fascinating religious figure of epic size. He gives new meaning to the word complexity and contradictions."
In a first-ever partnership, KBYU is co-producing a response to "The Mormons" with KUED. Sterling Van Wagenen, KBYU-TV co-producer for "Utah Now: Viewing the Mormons," says, "The University of Utah sort of secular response together and the Brigham Young University sort of official response together in one program..." That one-hour special of Utah Now "Viewing the Mormons" will air on both stations on Friday night at 8:00.
×
Related links
Most recent Utah stories