Estimated read time: 2-3 minutes
This archived news story is available only for your personal, non-commercial use. Information in the story may be outdated or superseded by additional information. Reading or replaying the story in its archived form does not constitute a republication of the story.
CENTERVILLE -- Investigators uncovered the cause of a fire at a building supply store in Centerville, while workers got back to business.
Investigators now say a roofing crew that did repairs at Colonial Building Supply at 530 N. 400 West Monday accidentally started the fire. The fire chief says the crew heated a membrane on the roof with a propane torch. They accidentally overheated the wood in the roof, and fire smoldered for about an hour before it was spotted.
The four-alarm fire destroyed much of Colonial Building Supply Monday night. Fire investigators could not even safely go inside until Tuesday afternoon.
Building supply store trying to get back to business
Meanwhile, workers handled business orders one day after a destructive fire. First thing Tuesday morning, employees showed up and grabbed shovels and brooms to start cleanup.
"They feel they've got orders to fill, and they can start working soon," said Chief Jim Rampton of South Davis Metro Fire.
The company employees set up temporary offices in the parking lot. They'll use trailers to take care of customers.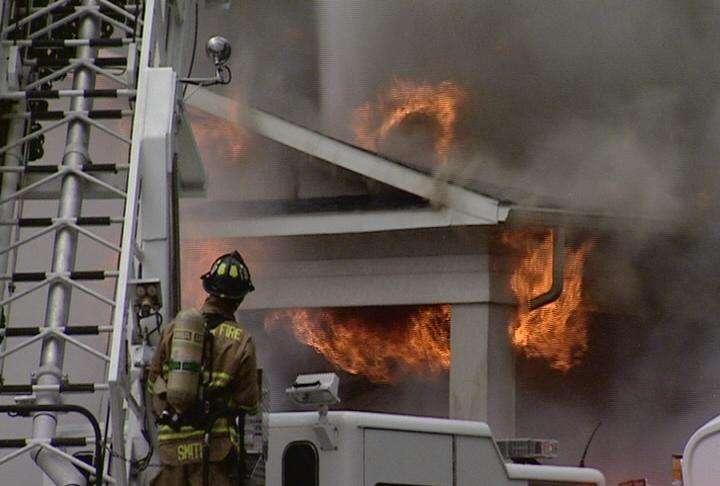 Investigators estimate the fire caused more than a million dollars in damage to the structure and supplies inside the store and offices. But firefighters say the warehouse, protected by a firewall, did not burn, so the company can continue business.
"What was saved, which was a majority of their product, which we believe they can get back to work very soon on, is in their warehouse, which is two or three times the size of what we're seeing," said Rampton.
Someone noticed smoke coming from the attic around 6 p.m. Monday and called 911. Within an hour, the store was roaring with flames. Fire departments from five cities helped save the business.
"The fire crews that were here last night did an excellent job stopping that from getting into the warehouse," said Rampton.
The fire department turned the case over to the insurance company. The owner plans to rebuild the store as soon as possible.
------
Story compiled with contributions from Jed Boal and Shara Park.
×
Photos
Related stories
Most recent Utah stories