Estimated read time: 2-3 minutes
This archived news story is available only for your personal, non-commercial use. Information in the story may be outdated or superseded by additional information. Reading or replaying the story in its archived form does not constitute a republication of the story.
Ashley Hayes Reporting Salt Lake City Mayor Rocky Anderson has proposed his final budget for the city, and his main focus is on helping the city go green.
Mayor Anderson continues his tradition of promoting the environment in his new 2007-2008 city budget. He is asking the city council to approve his fiscal plan, which includes using money from the general fund to pay for future environmental improvements.
The council doesn't typically approve using any money from the general fund. In the past, council members have opposed spending any money from the general fund, so it should be interesting to see if the city supports Anderson's pitch.
Anderson wants to use money from the general fund to create an "Energy Fund for the Future." It would allot money for future green projects in public and private sectors.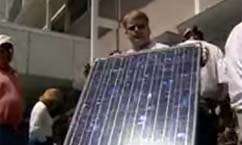 According to his plan, the fund would collect nearly $2 million from the general fund each year, or 1 percent of the general fund's revenues.
The general fund is a cushion of unused city money. Anderson's general fund budget is about $202 million. That's up from last year.
The money he wants for the energy fund would be invested in creating alternative energy sources, building more efficient infrastructure on city property, and funding loans for pro-efficiency upgrades to homes and businesses. It would also require the creation of a sustainability director to oversee the fund.
Anderson says the move reflects "our values and priorities as a community."
In addition to the Energy Fund for the Future, the budget recommends:
- no property tax increases
- an increase in parking fees at publicly-funded facilities
- a 4 percent water rate increase
- hiring six new firefighters and two city planners
Anderson's budget does not include new hires for the police department, though he set aside $100,000 for solving cold case murders.
Once again, the most striking difference in this budget is a call for the Energy Fund for the Future.
×
Most recent Utah stories