Estimated read time: 2-3 minutes
This archived news story is available only for your personal, non-commercial use. Information in the story may be outdated or superseded by additional information. Reading or replaying the story in its archived form does not constitute a republication of the story.
Shelley Osterloh ReportingIn fewer than 150 days the U.S. will take on the world at the Winter Olympics in Torino, Italy. After record medals at the Salt Lake Games, Team USA has their sights set for even greater success in the Italian Alps.
Reporters around the country are meeting America's top athletes and learning about their sports at the Olympic Media Summit in Colorado Springs, Colorado.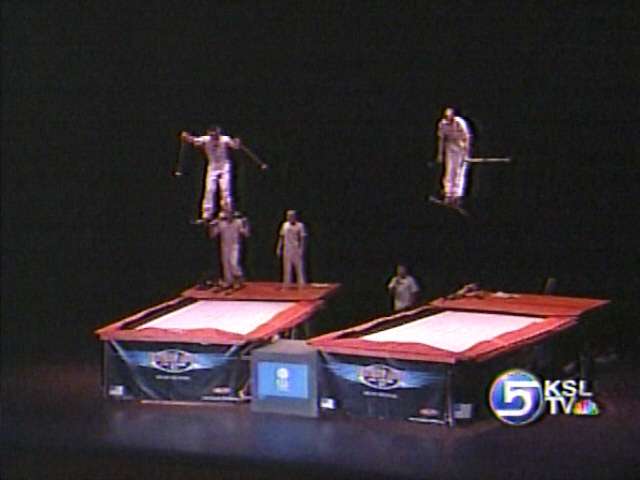 Utah will be well-represented at the Torino Winter Olympic Games. There are about a dozen athletes born and raised in Utah, but many more who now call Utah home. Many of them moved to Utah specifically to train at the facilities, like the Olympic Park and the Olympic Oval.
The US Freestyle Aerials team, most of them from Park City, known as the Flying Aces, was the opening entertainment at the summit. We've seen them flip and twist high above the snow. Maybe you've caught their popular act at the pools in the Olympic Park, but the Flying Aces also have a trampoline show they take on the road.
It's still dazzles audiences with aerobatic athletic stunts. Two former Olympians created the show to help athletes earn a little extra money while training. 36-year old, Eric Bergoust, 1998 Olympic gold medallist, hopes to compete again in Torino, his third Olympic games.
Eric Bergoust: "Doing shows is kind of like competing because you don't have a lot of time to think about exactly what you're gonna do. You just kinda have to go with what you got and do your best and make it look good and get through it."
Ryan St. Onge and Jeret Peterson, the world's reigning World Cup champion, say the show gives good exposure to their sport and to the athletes.
Jeret Peterson: "People don't really get to see anybody bouncing on trampolines, and especially not with snowboards and skis on, so it definitely throws in an element that kind of shows them, you know, this is what we do. We're on edge, but we're still a little controlled, I guess, you know, a little bit."
Ryan St. Onge: "We get to bounce as high as we possibly can for as long as we possibly can, and do as many big tricks as we possibly can, and hopefully not land on the people that are looking at us."
And they did that very successfully. People were just wowed by their show. It might have been easier to jump on that trampoline than what they had to go through today with 365 journalists firing questions at them.
×
Most recent Utah stories