Estimated read time: 3-4 minutes
This archived news story is available only for your personal, non-commercial use. Information in the story may be outdated or superseded by additional information. Reading or replaying the story in its archived form does not constitute a republication of the story.
UPDATE: After our video story aired last night, viewers e-mailed us about an object that appeared to be thrown at the bison. Cathy Hayes says, there was one other car in the area, before the buffalo charged.
She believes someone in that car threw a stick at the animal. She says the stick is coming from the direction of that car.
"It wasn't until after I saw the video on TV and on HD that I saw the stick coming from that direction," Hayes said. "That's what agitated the buffalo, not us."
She said the car took off when the buffalo charged her. She would like them to come forward and at least apologize.
---
YELLOWSTONE -- Signs in Yellowstone National Park say don't get too close to the wildlife, but a woman from Farr West, Utah, did -- and paid the price. She even got video of what happened.
On Monday, the woman was in an area about a mile away from the Old Faithful geyser. She and a friend spotted a bison and got close to it. She'll be the first to admit they shouldn't have done that.
Cathy Hayes kept her distance while getting video of a buffalo in Yellowstone National Park.
"So we're here in the park and there's a buffalo, and he's just wandering across the road," she says in the footage.
But watching it from afar wasn't good enough for her friend, who wanted to get a closer look at it for himself.
With the camera rolling, she followed him and joked about how dangerous it was -- never expecting what would come next.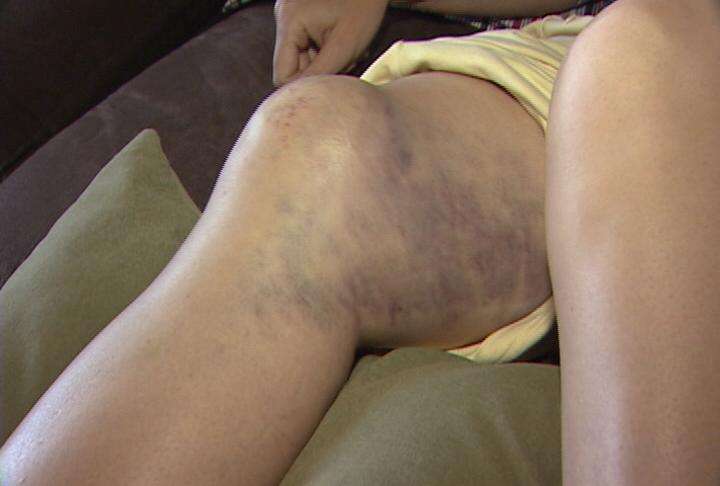 "We'll get a shot of (bleep) getting gored by the buffalo," Hayes is heard on tape.
They were about 30 feet away when the buffalo became agitated.
"My friend decided to break through the trees, and that's when the buffalo saw him and started to charge at him," Hayes said.
The man tripped and fell, and that's when the buffalo turned its attention on her.
She took cover behind a tree. When the buffalo hit it, she made a run for her car but didn't make it.
"I was behind the clump of trees and there was only this much room between the two clumps of trees," Hayes recalls. "He maneuvered between those and turned on a dime and came after me."
The buffalo rammed Hayes in her left thigh, flipping her over. She landed on her right leg, which is now badly bruised.
"I was waiting, truly waiting for him to stomp my head, 'cause I could hear his breathing and his hooves were right by my head," she said. "I just thought this was it, how I was going to go out."
When Hayes' husband ran from the car, waving his arms and legs, the buffalo took off just as fast as he'd come.
Hayes has seen the video many times, but it never gets any easier to watch.
"Oh, my heart's racing again," she said as she watched the footage. "It was a traumatic experience. So yeah, just don't do what I did. Be smart, people."
Hayes says she's lucky to be alive. Her friend broke his shoulder when he fell.
A bull bison can stand 6 feet tall, weigh up to 2,000 pounds and run up to 30 miles an hour.
Hayes is the second Yellowstone visitor who's been charged and injured by a bison this summer.
E-mail: syi@ksl.com
×
Related stories
Most recent Utah stories