Estimated read time: 2-3 minutes
This archived news story is available only for your personal, non-commercial use. Information in the story may be outdated or superseded by additional information. Reading or replaying the story in its archived form does not constitute a republication of the story.
FORT COLLINS, Colo. (AP) -- Colorado State running back Kyle Bell scored a 49-yard touchdown with 5:05 remaining Saturday, then the Rams stonewalled Utah on the goal line with less than a minute left for a 21-17 win.
After Bell's touchdown, Utah drove from its 20-yard line to the CSU 4.
On first-and-goal, running back Quinton Ganther ran for a three-yard gain, but the Rams stuffed quarterback Brian Johnson for no gain on the next two plays.
After a timeout, Ganther tried again, but was tackled by CSU's defensive end Jesse Nading.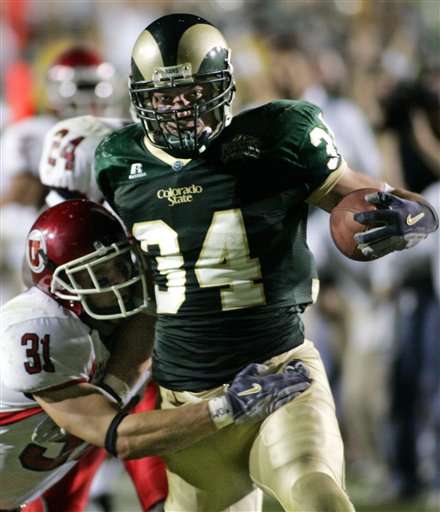 The Utes (3-3, 1-2 Mountain West Conference) remain winless on the road this season -- one year after going undefeated and beating Pittsburgh in the Fiesta Bowl. They also lost two straight for the first time since 2002.
Bell, who rushed for 197 and 183 yards in his previous two games, had 42 yards on 17 carries over the first three quarters, as CSU (3-2, 2-0) fell behind 14-3.
But Colorado State rallied. Justin Holland hit Matt Bartz early in the quarter to cut the deficit to 14-9. Then, Holland found David Anderson in the end zone for a 2-yard touchdown pass to give CSU a 15-14 lead with 11:16 remaining.
Holland completed 18-of-25 passes for 226 yards, two touchdowns and one interception.
Utah drove down the field on its next possession, but could only manage a field goal to make it 17-15.
Then Bell took over.
He had runs of 6, 12, 9 and 1 yard before he broke through for the big touchdown. He finished with 25 carries for 140 yards and the score.
Utah scored on its first possession of the game with a fake field goal to take an early 7-0 lead. Holder Eric Weddle picked up the ball on the Colorado State 9-yard line and ran into the end zone along the right side.
(Copyright 2005 by The Associated Press. All Rights Reserved.)
×
Most recent Sports stories