Estimated read time: 2-3 minutes
This archived news story is available only for your personal, non-commercial use. Information in the story may be outdated or superseded by additional information. Reading or replaying the story in its archived form does not constitute a republication of the story.
Jed Boal ReportingSchool kids across the state rolled up their sleeves and raised money for hurricane victims. One elementary school in Murray gave the Red Cross more than 43-thousand dollars, with some help and "good vibrations" from an American music legend.
The students at McMillan Elementary didn't catch the Beach Boys wave when it arrived in the 60's, but they're riding it today, united with the band through Hurricane Katrina.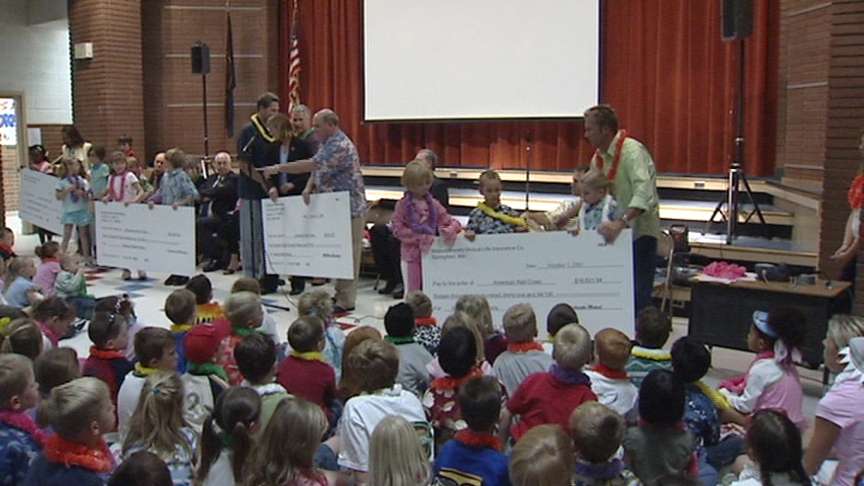 Cooper Bateman, 5th Grader: "I just felt bad for the people who suffered from Katrina."
So the students counted their coins and rounded up some big checks to donate to the Red Cross for hurricane victims. They pitched in money from chores and raised more than five thousand dollars on their own. Two businesses gave matching donations.
McKay Pier, 5th Grader: "I thought that it was important, because they needed our help. So we went and made stress balls out of balloons and flowers and we sold them around our neighborhood."
Then a surprise. A parent found out Beach Boy Brian Wilson was matching donations. They contacted him and he came up with 18-thousand dollars, to push their total to nearly 43-thousand dollars.
Most of the kids didn't know Brian Wilson so they discovered the Beach Boys music this week. He gave them a call of thanks.
Voice of Brian Wilson: "With your donations you helped raise more than 210-thousand dollars for the Katrina victims. I want to thank you from the bottom of my heart (applause.)"
McKay Pier, 5th Grader: "That was way cool."
And even cooler to help out people who really need it.
McKay Pier, 5th Grader: "They lost almost everything they owned. I have everything I need, so I thought they should get everything they need."
So what' her favorite Beach Boys song? "Be True to Your School."
Last school year the students at McMillan raised money for tsunami victims.
×
Most recent Utah stories