Estimated read time: 2-3 minutes
This archived news story is available only for your personal, non-commercial use. Information in the story may be outdated or superseded by additional information. Reading or replaying the story in its archived form does not constitute a republication of the story.
Sandra Yi ReportingPolice are asking for help identifying a man who robbed a hospital pharmacy last night. He sprayed two women with some type of flammable liquid. The pharmacy's owner was there when it happened and today talked to KSL.
Police say prescription drugs like Oxycontin are so powerful and addictive people are resorting to desperate measures to get them. The pharmacy's owner knows that. She's been a victim of this type of crime before.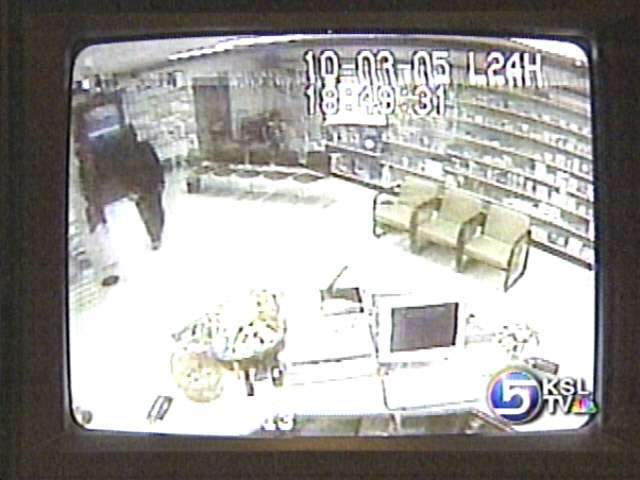 Pharmacist: "So I looked up, and here this guy came around the corner."
It wasn't a customer, but a man desperate for the prescription pain-killer, Oxycontin.
Pharmacist: "And he hold up one of those spray plastic spray bottles and he was showing us he had sulfuric acid."
This woman owns Pioneer Valley Pharmacy. She didn't want to be identified.
Pharmacist: "He wanted me to get Oxycontin for him, so I did exactly what he asked for."
The man then sprayed the area. Some of the liquid, which she says smelled like gasoline, got on her. It also got in another woman's eyes.
Pharmacist: "At first I thought, ok, it's going to burn, but it didn't, and I was really relieved."
She was so mad she ran after him. So did security guard Evelyn Anderson.
Evelyn Anderson, Security Guard: "He was running, stopped, started walking, and when he saw I was coming, he started running again."
She lost him, but surveillance cameras caught him on tape. He was wearing dark clothes and had a nylon stocking over his head. The victim is angry.
Pharmacist: "I just felt kind of helpless that we couldn't do anything to stop this."
This is her third robbery since February of last year. That's when an armed man came in demanding the prescription painkiller Lortab and money. Days later, he came back for Oxycontin. He was arrested.
The pharmacist says she's fed up because people's addictions are putting others in danger.
Pharmacist: "This way you are hurting everybody that you come in contact."
She plans on installing more cameras to deter other would-be robbers. Other pharmacies are also implementing tighter security measures.
If you have any information on this case, call West Valley City Police.
×
Most recent Utah stories