Estimated read time: 2-3 minutes
This archived news story is available only for your personal, non-commercial use. Information in the story may be outdated or superseded by additional information. Reading or replaying the story in its archived form does not constitute a republication of the story.
Brooke Walker ReportingIt's been snow in the mountains, but rain in the valley. Often the first storm of the season can be a wake-up call for drivers, and this year is no exception.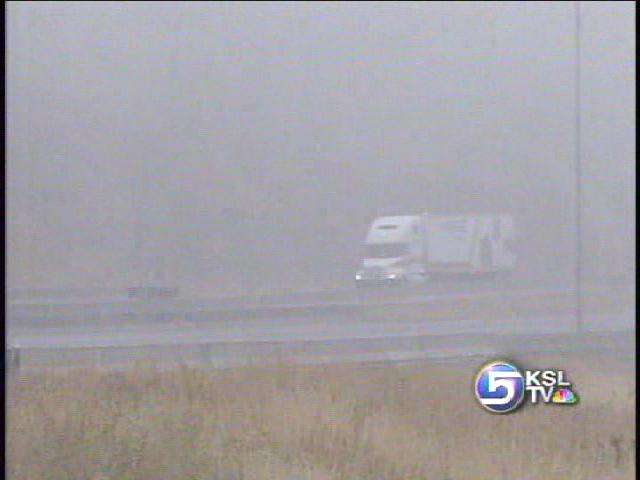 The Utah Highway Patrol has been busy today responding to more than 30 accidents, almost all of them attributed to the wet roads. Fortunately so far, none of those accidents have been fatal, but several have resulted in some injuries. Many of those accidents are a result of hydro-planing, drivers just traveling too fast on wet roads.
One accident happened this afternoon near 13th East and 108th South. Witnesses say the car began fishtailing before it lost control, crossing into southbound lanes, where it then collided with a large commercial truck. The 17-year old male driver was transported by air to a local hospital. He is in critical condition. The two occupants of the truck involved are reported to be fine.
That is only one of the many accidents that kicked off winter travel for the 2005 season. Utah drivers described today's commute as an eye-opening reminder.
Don Stevenson, Driver: "Most people are just driving too fast. It's pretty wet, a lot of water on the roads. Visibility so far hasn't been too bad but it can get nasty in a hurry, especially this time of year."
As the rain continues to fall there are a few familiar tips. The moisture always leaves behind a lot of standing water on the roads and in some areas visibility becomes a problem. The Utah Highway Patrol urges drivers to reduce speed and increase following distance. Also, be patient and allow yourself more time to get where you're going.
UHP also wants to remind everyone it's not the weather that makes for dangerous driving, it's drivers not adapting to weather conditions. It's Information that we've all heard before, but as numbers show, we don't always listen.
×
Most recent Utah stories