Estimated read time: 3-4 minutes
This archived news story is available only for your personal, non-commercial use. Information in the story may be outdated or superseded by additional information. Reading or replaying the story in its archived form does not constitute a republication of the story.
SALT LAKE CITY -- A key component of Salt Lake City's downtown City Creek project broke ground Thursday. It's the first step toward a full-service grocery store in the downtown core, something that's been missing for more than a quarter century.
A crew broke ground on the new Harmons store at 100 South and 200 East. There are a lot of people who are excited over a grocery store coming in here, but it's not just any grocery store. The folks at Harmons traveled around the world to get ideas about what would work in the downtown spot.
The first shovel of dirt for the new Harmons is the last groundbreaking of the entire City Creek project. By next fall, a full-service Harmons will occupy the spot -- a key part of the City Creek Project.
Randy Harmon, usually a funnyman, is serious when he talks about his new store.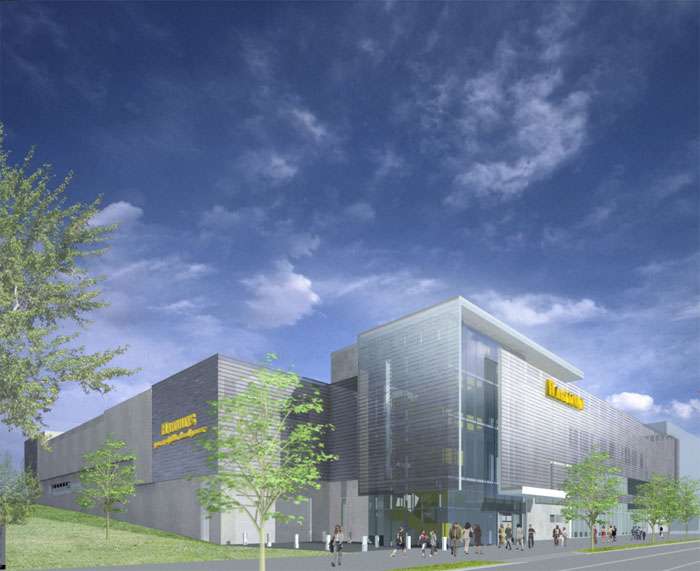 "We try to be in tune with our customers and find out what those needs are and change toward those needs," he said.
The store will serve the existing neighborhoods downtown, but also the hundreds living in new high-rise condos. The Church of Jesus Christ of Latter-day Saints is the developer for the project and is looking to sell as many units as possible.
Wednesday, the Church announced it is lowering the price of some of the units in the Regent.
"This is nothing more than a readjustment of some of the prices," said Bishop H. David Burton, Presiding Bishop of the LDS Church. "Some go up, some go down. It's a reflection of what's going on in the economy."
At The Regent high rise, the asking price once ranged from the high $200,000's to $1.7 million. Now, prices start in the mid $100,000's. Burton says some of the drop is simply due to savings.
"Some of our pricing we've adjusted because of the efficiencies and the savings we've had in the construction of the condos."
"I would expect there to be some market swings," said Salt Lake Chamber Chief Economist Natalie Gochnour, who says it's natural with so much building going on.
The new Harmons will be two levels and have a glass exterior with a parking lot on top. It will feature fresh bread and gelato and other food prepared on site, along with a deli, international foods and health foods sections.
"We really worked very, very hard to find fresh, high-quality foods that haven't been available in this market before," said Bob Harmon of Harmons Grocery Store.
Even Salt Lake City Mayor Ralph Becker is happy to talk about the new store opening. "It is one of the more frequent questions I get, behind traffic signal synchronization: 'When are we going to get the new Harmons opening up downtown?'" he said.
The answer: fall of 2011.
Many of City Creek's condos will also be open by then, and Harmons is expecting to be busy right away.
------
Story compiled with contributions from Richard Piatt and Andrew Adams.
×
Photos
Related links
Related stories
Most recent Utah stories