Estimated read time: 3-4 minutes
This archived news story is available only for your personal, non-commercial use. Information in the story may be outdated or superseded by additional information. Reading or replaying the story in its archived form does not constitute a republication of the story.
SALT LAKE CITY -- The U.S. Constitution is, of course, the supreme law of our land. It has also become a political football used by politicians as a rallying cry to take us back to what the founding fathers envisioned. But has the Constitution really been forsaken?
Talking with historians, political scientists and experts in the law, you soon realize what we see today is not unique. There are also younger voices, not yet experts, but students who have learned how the Constitution works and what it means.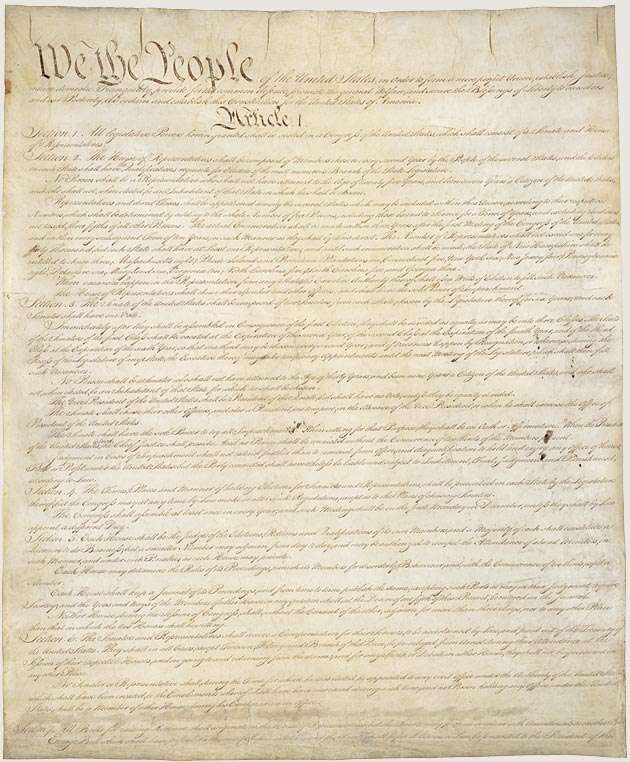 The revered document begins by stating, "We, the people of the United States, in order to form a more perfect Union." What follows forms a document that many nations envy.
"Frankly, our Constitution is our No. 1 export. More countries have their constitution modeled after ours and became constitution-writing peoples, if you will, because of the success of the American Constitution," says Matthew Holland, author and president of Utah Valley University.
But what is happening today? A bumper sticker reads "Legalize the Constitution." A slogan states "Take back the Constitution." Take it back from whom? What exactly are they talking about?
"From time to time in American history, one group or another has seized upon it as a means to try and pursue their own political ends," says David Magleby, political scientist and dean of BYU's College of Social Sciences.
The writing of the Constitution actually began with debate and contention. James Madison, the fourth U.S. president, is called "the father of the Constitution," but others influenced the concept. Delegates to the Constitutional Convention in Philadelphia adopted it September 17, 1787.
Purpose of the Constitution of the United States
The Constitution was adopted on September 17, 1787, by the Federal Convention in Philadelphia, Pennsylvania, and ratified by conventions in each U.S. state on June 21, 1788. The initial purpose of the convention was to revise the Articles of Confederation, but representatives soon realized they would need to draft an entirely new frame of government. The Constitution is the supreme law of the United States. It is the source of all government powers, and provides important limitations on the government that protect the fundamental rights of United States citizens.
A group of students at Skyline High School who spent the year studying our government share what they've learned.
"They thought about it, and it took them a long time to decide what they wanted to do," says student Brent Uberty. "And the government was set up so that it would be there for the people, not so the people would be there for the government."
It's a concept that makes the document open to interpretation.
Southerners who wanted to secede from the union and abolitionists wanting an end to slavery called on the Constitution.
Fast forward to 2008: The Supreme Court ruled that the Second Amendment protects individual gun ownership, not just militias.
University of Utah Law Professor Wayne McCormack is not surprised by the current political rhetoric. It began, he says, in 1800 with sparring political parties. Then in the 1830s, the nullification crisis was about whether tariffs were unconstitutional.
Constitutional Flashpoints
1800 - Federalists v. Anti-Federalists
1830 - Nullification, Clay v. Calhoun
1860 - Civil War
1890 - Industrial Regulation
1930 - New Deal
1960 - Civil Rights & States' Rights
1980 - Reaganonmics
2010 - Tea Party
Thirty years later, the Civil War brought our government into its worse crisis, then it was the Industrial Revolution and regulation of industry.
In 1930, the New Deal created a huge battle over the scope of federal power. The battle over civil rights followed, then came "Reaganomics," and now the Tea Party.
"So, you just trace it through so that [in] every generation, we have this squabble over the breadth of federal power," McCormack says.
The difference today is the access to so many voices -- on blogs, radio and television talk show. But are those opinions based on education or are they self-serving?
"That's the biggest thing I learned in this class, is just find out things for yourself. Don't really believe what everybody's telling you, 'cause they're telling you what you want to hear," says Skyline student Garrett Battaglia.
Our Constitutional experts say our three-pronged form of government contains checks and balances. It remains difficult for anyone or either party to impose expansive power. Most importantly, the document belongs to us all.
"I think it's unfortunate when we point at people and say, 'Well, I'm a better believer in the Constitution than you are.' I think our history has shown this is a deeply held value for all Americans," Magleby says.
Some believe the U.S. Constitution is a sacred document, but can it hang by a thread? Has it? We'll bring you that discussion Wednesday night on KSL 5 News at 10.
E-mail: cmikita@ksl.com
×
Related links
Most recent Utah stories