Estimated read time: 2-3 minutes
This archived news story is available only for your personal, non-commercial use. Information in the story may be outdated or superseded by additional information. Reading or replaying the story in its archived form does not constitute a republication of the story.
OREM -- While many Americans are enjoying fireworks this weekend, the celebrations will have special meaning for 18 Utahns. This will be their first Fourth of July as citizens of the United States.
A special naturalization ceremony was held as part of Provo's Freedom Festival -- and there weren't many places in the state more patriotic than Scera Park Friday as the former immigrants took the Oath of Allegiance.
They walked up on the stage as immigrants, 18 strangers from all over the world. All have American dreams of their own.
"I plan to go to school and graduate and get better job," said new citizen Sche Soumain.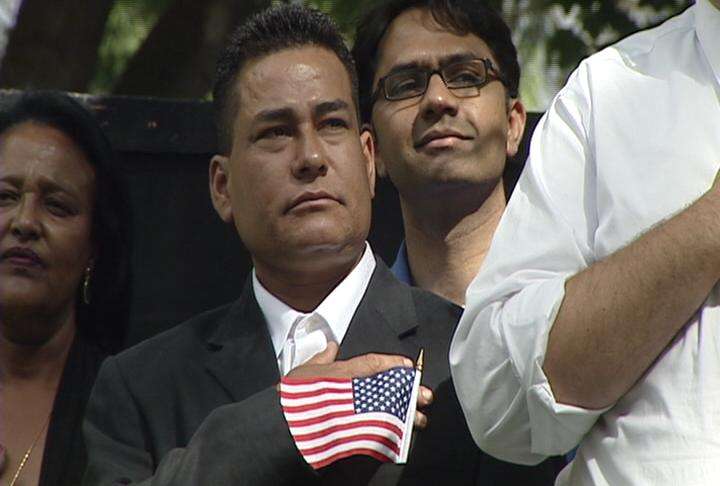 Some from the ceremony aren't the only new U.S. citizens in their family, but it's a day they've waited a long time for. The journey took 19 years for one candidate.
Then the moment finally arrived: Once immigrants, now U.S. citizens.
This isn't their first Independence Day in the United States, but this one will be different -- for this time, they'll be Americans.
The citizens originated from 14 different countries on many continents: American Samoa, Bangladesh, Canada, Chad, Ecuador, Ethiopia, India, Italy, Mexico, the Philippines, Saudi Arabia, Somalia, Tonga and Vietnam. The youngest applicant was 21 years old; the oldest, 61.
In order to gain citizenship, they all had to pass several requirements, including learning English.
"I don't have words to say how grateful," said one new citizen.
"It's worth waiting for it," said another. "I believe it's the right way to do it."
The ceremony at Scera Park was part of the U.S. Citizenship and Immigration Services annual celebration of Independence Day. An estimated 3,800 candidates will become citizens at 55 special ceremonies held across the country and around the world from July 1 through July 6.
To learn more about the citizenship process, CLICK HERE.
E-mail: jstagg@ksl.com
×
Photos
Related links
Related stories
Most recent Utah stories