Estimated read time: 3-4 minutes
This archived news story is available only for your personal, non-commercial use. Information in the story may be outdated or superseded by additional information. Reading or replaying the story in its archived form does not constitute a republication of the story.
SALT LAKE CITY -- Famed American painter and illustrator Arnold Friberg has died at age 96. He has lived in Utah for nearly 60 years.
Friberg passed away Thursday morning at a Salt Lake City rehab center following hip replacement surgery.
The illustrator and painter, who was a member of The Church of Jesus Christ of Latter-day Saints, was known for his religious and patriotic works. Among his most famous pieces is the 1975 painting "The Prayer at Valley Forge," a depiction of George Washington praying at Valley Forge.
His fascinating life and work brought him international recognition.
With his stunning use of light, the vibrancy of his colors and his ability to capture the dramatic, American artist Arnold Friberg believed if a work didn't have heart, it wouldn't be remembered.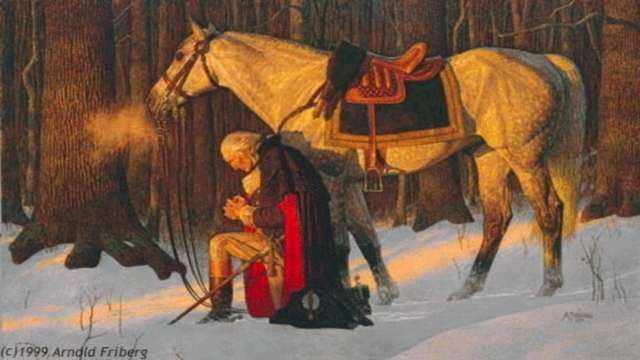 "Most people do it with words; my language is paint," Friberg once told KSL.
Born in Illinois and raised in Arizona, Friberg studied at the Chicago Academy of Fine Arts and was a nationally-recognized illustrator when he moved from San Francisco to Salt Lake City in 1949.
Adele Cannon Howells, The Church of Jesus Christ of Latter-day Saints General Primary President, commissioned him to paint 12 scenes from the Book of Mormon, each to be published in the faith's children's magazine.
Those paintings drew the attention of a man working for Hollywood's greatest director, Cecile B. DeMille. He was preparing to film "The Ten Commandments."
"Packed up these eight prints and mailed them to DeMille with a note saying, 'The man you're looking for is in Salt Lake City,'" Friberg said with a laugh in 2001.
Arnold Friberg Biography
1913: Born Dec. 21 in Winnetka, Ill.
Late 1930s: Began painting the Royal Canadian Mounted Police for the Northwest Paper Company Calendars.
1950: Moved to Utah with his wife and started teaching commercial art at the University of Utah.
1950s: Commissioned by Primary President of The Church of Jesus Christ of Latter-day Saints Adele C. Howells to create series of paintings depicting events in The Book of Mormon, which were published in the Church's magazine for children.
1953: Worked with Cecil B. DeMille for three years on the film "The Ten Commandments" as chief artist and designer.
1968: Commissioned by Chevrolet Motor Company for a series of paintings depicting the most famous American intercollegiate football games, which were used for the 1969 advertising campaign.
1975: Created his masterpiece "The Prayer at Valley Forge."
1978: Commissioned to do an almost life-size portrait of Prince Charles with his horse Centennial.
1990: Commissioned to paint a portrait of Queen Elizabeth II, also with Centennial.
One look and DeMille hired Friberg to paint key film scenes and provided him with a home in Hollywood. Friberg's breathtaking creation of the parting of the Red Sea was filmed for the movie. DeMille made Friberg the film's art director, which earned him an Academy Award nomination for costume design.
"I don't think we can truly overestimate the influence of Arnold Friberg and his work, not only in motion pictures but in his entire career," said Jim D'Arc, Ph.D., Curator of the Motion Picture Archives at the BYU Library.
Because of his 300 of paintings of the Canadian Mounties, he is the only American made an honorary member of the Royal Canadian Mounted Police. That group commissioned a painting of Britain's Prince Charles with his horse, Centennial.
Years later, Queen Elizabeth II invited him to return and paint her equestrian portrait. Again, Friberg lived and worked in Buckingham Palace.
Into the light is where his paintings carried Friberg, from Hollywood to the Royal Family to a work which has become definitive and beloved, "The Prayer at Valley Forge."
"I don't like to lay too much emphasis on something from upstairs, but it just seems there is some destiny to the thing," Friberg once said.
From the illustrator who became a lifelong member of the prestigious Royal Society of Arts, now millions throughout the world know his work because it has touched their lives.
Gov. Gary Herbert offered his deep condolences to Arnold's family.
In a statement he said, "Utah is proud to call Arnold Friberg its adopted son. His work is instantly recognizable and has inspired countless people, whether it is through his religious illustrations or his patriotic pieces.
"On the wall directly across from the desk in my office hangs Arnold's famous 'The Prayer at Valley Forge,' from which I draw inspiration daily. The resolve demonstrated in the clasped hands of George Washington as he kneels in prayer is breathtaking, and Arnold captured it deftly.
"Jeanette and I offer our deep condolences to Arnold's wife, Heidi, and his family, and thank them for sharing Arnold and his talent not just with the State of Utah, but the entire world."
Family members are making plans for a funeral service Saturday, July 10, in Salt Lake City. A time and place will be determined at a later date.
E-mail: cmikita@ksl.com
×
Photos
Related links
Related stories
Most recent Utah stories