Estimated read time: 2-3 minutes
This archived news story is available only for your personal, non-commercial use. Information in the story may be outdated or superseded by additional information. Reading or replaying the story in its archived form does not constitute a republication of the story.
Ed Yeates ReportingNothing like it has ever been done before. Multiple government agencies announced today they will fund a monumental health study that literally will follow children from birth to adulthood, even into old age and death. And two Utah medical centers will be major players in the research.
This study boggles the mind. From the unborn child in the womb, to its birth, to its growing from a toddler to a child, rapidly developing into an adolescent, then a teen, then an adult, and even old age and death. Even researchers who begin this study, as they near death, will hopefully pass the baton onto yet another generation of scientists who will continue collecting the data.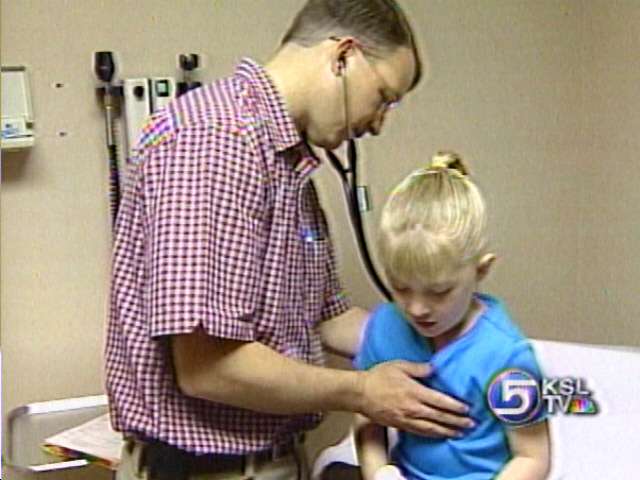 Edward Clark, M.D., Local Principal Investigator: "As I think about it today, the people who will finish this study, their parents have not yet bee born. A hundred years it will take to follow these children through their natural lifetime."
Primary Children's Hospital Medical Director Dr. Edward Clark says the partnership to carry out this study - the most far reaching yet - is unequaled among medical researchers.
Edward Clark, M.D.: "It's the most phenomenal investment in children this country or any country has made."
Among 96 sites selected by the Government, Primary Children's and the University of Utah will be the major vanguard center for not only Salt Lake County, but surrounding intermountain states as well.
Nationally, the first 21 year phase of the study will cost 2.5 billion dollars. Utah alone will get 16 million for research here. Why the investment for what could be at least a four generation study? As the families and kids who volunteer for this study grow over the years, scientists will document cues or triggers that affect their health. What they eat, what they drink, where they live, pollution, and more. How do all these things impact their lives and the origins of diseases like obesity, diabetes, asthma, mental illness and addiction, to name a few.
Rural to urban, rich and poor, all ethnic groups will be represented in the samples. The payoff will come in increments as data unfolds, but the children who will really benefit are the ones yet to come.
Edward Clark, M.D.: "It's creating a safe environment where our children will be healthier, live longer, and more productive than any generation before it."
It's a lofty goal medical researchers have bought into now. Their only hope is that others who follow them will do the same.
Those agencies funding the project include the US Department of Health and Human Services, the National Institutes of Health, the Centers for Disease Control, and the EPA.
×
Most recent Utah stories