Estimated read time: 2-3 minutes
This archived news story is available only for your personal, non-commercial use. Information in the story may be outdated or superseded by additional information. Reading or replaying the story in its archived form does not constitute a republication of the story.
SALT LAKE CITY -- A Salt Lake City woman is facing a slew of charges for seeking revenge against a 13-year-old girl. She distributed fliers around Northwest Middle School that contained a photo showing the teen's face on a pornographic image.
---
We consider these photos child porn. Under Utah law, any distribution of the photos is distribution of child porn.
–Lohra Miller, SLCO district attorney
---
Danette Stark, 37, is behind bars facing 18 counts of sexual exploitation of a minor. Prosecutors say she Photoshopped the 13-year-old girl's yearbook photo with a pornographic picture she found on the Internet.
"This flier was a very realistic depiction that was very graphically displaying a young woman engaged in sex acts with an animal," said Salt Lake County District Attorney Lohra Miller said in a press conference Friday.
Prosecutors say Stark made dozens of copies of the fliers that also included several profane and derogatory terms at the bottom of the fliers.
But the parent of a student at Northwest Middle, who said her daughter is friends with the alleged victim, told KSL News off camera that Stark might be covering for her own daughter's actions.
The woman said Stark's daughter and the girl had a falling out. To save her daughter from getting in trouble, she believes Stark is taking the fall.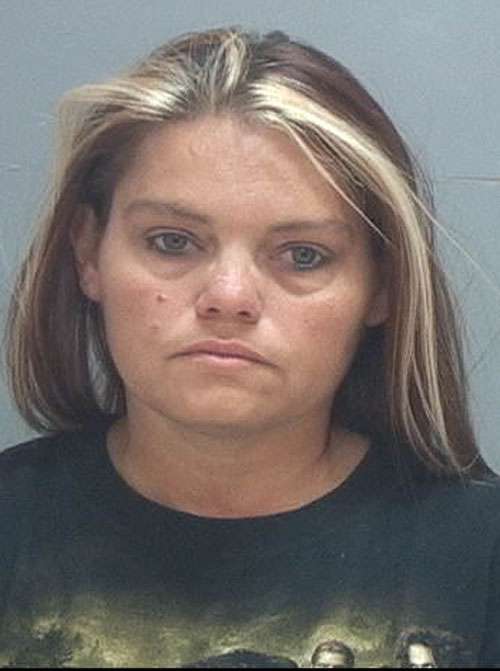 However, police say they have surveillance video of Stark with the fliers in the school. The May 25 video shows her walking into the seventh-grade girls' bathroom with the fliers. She also placed three or four fliers in the girl's locker.
The fliers were discovered the next day by a janitor. Ultimately, the school's assistant principal found 18 copies, resulting in 18 charges against Stark.
Stark says she made 30 copies, so prosecutors warn 12 fliers may still be out there.
"We consider these photos child porn," Miller said. "Under Utah law, any distribution of the photos is distribution of child porn. They should not be reproduced. They should not be shown to anyone."
Charging documents state Stark created the fliers to retaliate for perceived wrongs by the girl. Miller says regardless of the motive, the act is inexcusable.
"Any adult would recognize this behavior as unconscionable," Miller said. "You have enough to deal with as a 13-year-old girl, much less this type of conduct. I think it's very safe to assume that she has been traumatized by it and will have to deal with it."
Stark was arrested Thursday night and is being held on $50,000 bail. She faces one to 15 years in prison on each of her 18 second-degree felony charges.
Prosecutors warn if anyone finds a flier and redistributes it -- including making copies or posting it online -- it is considered distribution of child pornography under Utah law.
-----
Story compiled with contributions from Jennifer Stagg, Anne Forester, Shara Park and Andrew Adams.
×
Most recent Utah stories