Estimated read time: 2-3 minutes
This archived news story is available only for your personal, non-commercial use. Information in the story may be outdated or superseded by additional information. Reading or replaying the story in its archived form does not constitute a republication of the story.
PROVO -- Some Utah songbirds lost their freedom, briefly, Wednesday. Bird experts captured them on the fly in an effort to figure out if they're thriving or declining.
It's a good news, bad news picture, with the emphasis on bad news. For 18 years, state and federal agencies have been setting up capture nets at dozens of locations around the state. Songbirds, mostly, are not doing so well.
When Melanie Hoffman and Hillary White, with the Utah Division of Wildlife Resources, race from net to net along the Provo River, their work seems like fun.
"Don't tell the state this, but I'd do it for free, I get so excited about birds," Hoffman said.
Every so often, they find something very pretty hung up in the nets.
"We try to get them out and processed as soon as we can. We check the nets regularly, and we just try to minimize the amount of stress on the birds," White said.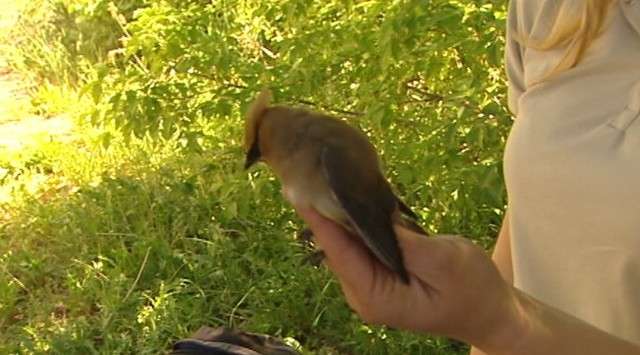 The birds, including robins, sparrows, cedar waxwings and brown-headed cowbirds, get measured and weighed, examined and banded. Most Utah songbirds are Mexican migrants. They live south of the border but fly here in the spring to build nests, mostly in so-called "riparian" areas along streams.
"I think birds are very important. I think once you've been around birds, you've seen birds in the hand, you become very passionate about the birds," White said.
The birds are doing pretty well along the Provo River. About 100 species live there at least part of the year. But the overall historical trend is not encouraging.
Russell Norvell, with Partners in Flight, said, "Around the state, unfortunately, we're seeing a long-term decline in riparian bird population, roughly between 3 and 5 percent per year."
"Nearly all of our species are declining," White said.
Some causes are natural, like drought. But the biggest threat is thought to be people -- habitat loss to development and recreation.
The Provo River, though, is a sliver of good news. Federal projects there have restored habitat and made the river more natural. Songbirds there are making a comeback.
"Just the numbers that we're seeing in the last three years, we've seen an increasing trend. So I think it's on the right trajectory," White said.
Norvell said, "It's the right step in the right direction, and it's certainly been a benefit for many species here."
They hope the lessons learned on the Provo River and the songbird data they're collecting will influence policy. Statewide, at least 80 percent of the habitat has been lost. The bird lovers hope to reverse the trend.
E-mail: hollenhorst@ksl.com
×
Photos
Related links
Most recent Utah stories