Estimated read time: 2-3 minutes
This archived news story is available only for your personal, non-commercial use. Information in the story may be outdated or superseded by additional information. Reading or replaying the story in its archived form does not constitute a republication of the story.
SALT LAKE CITY -- Patients with University of Utah Health Care can now access portions of their medical records online through a new program called MyChart.
MyChart director Curtis C. Newman says it makes the process more patient-centered.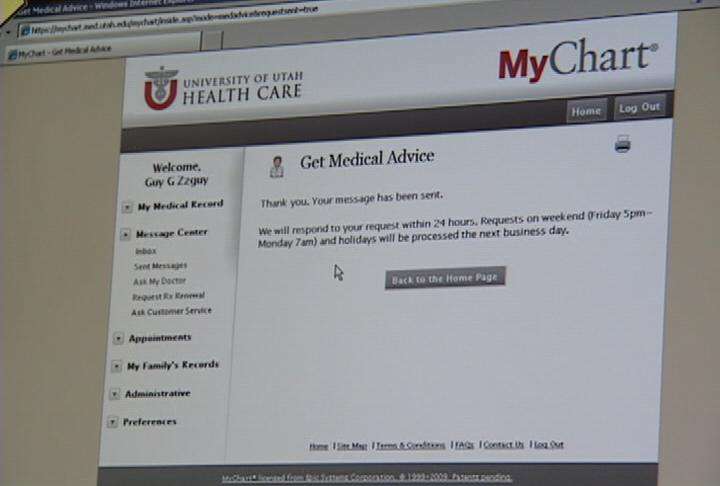 "To provide that to our patients is giving them access to their doctors, giving them access to the information so they can communicate with their doctors," he says.
Like many of us, Kathy Hooten wants to access her medical records online just like her bank account. She wants to reach her doctor online, to ask questions and make appointments. She can now do that securely with MyChart.
"Last Wednesday I had my labs drawn," she told KSL News. "On Friday, I got a message from my doctor that my labs were available online. So, I clicked on, found out what they were, the advice that he gave, and I was good to go."
Without MyChart, that process might have taken a week.
"I'd been working really hard on my cholesterol, so I was happy to find out those results right away," Hooten said.
Physician assistant Melissa Briley calls MyChart efficient and effective for the patient and doctor.
"Patients can get their results almost immediately -- when they're available -- and they can contact us readily," Briley says.
University Health Care rolled out MyChart in May. Patients can pull it up at home, or on a smartphone.
What is... My Chart?
MyChart is a secure, online health management tool that connects University of Utah Health Care patients to portions of their personal medical record. With MyChart, you can:
View your health summary, current medications and test results
Request medical appointments
Request prescription renewals
Track your immunization history
Communicate electronically, securely with your medical care team
Access trusted health information resources
"They get those labs on the fly," Briley says. "As soon as I send it, they can almost always get it -- as opposed to their mailbox at home; it can take up to a week."
Weekends don't slow information, and the program is environmentally-friendly too, with less paper involved.
Newman says it gives the patient more control and transparency.
"If we're going to provide a more excellent experience, and better quality health care, our partner is the patient," Newman says. "They need to have that."
The director says MyChart is part of a movement in the industry to bring health care to the patient and make the process more patient-centered.
"I can get online from wherever I am in the world, 24 hours a day, and I can look at my medical information," Newman says. "I can make an informed decision about what kind of questions I want to ask my doc."
Two hundred eligible patients are setting up their accounts each day, among all age groups.
"We're amazed at how fast they're signing up," Newman says. "In two weeks, we signed up 1,500 hundred patients."
MyChart is available to patients at University Health Care outpatient community clinics. Eventually, it will be available to all its patients system-wide.
E-mail: jboal@ksl.com
×
Related Links