Estimated read time: 1-2 minutes
This archived news story is available only for your personal, non-commercial use. Information in the story may be outdated or superseded by additional information. Reading or replaying the story in its archived form does not constitute a republication of the story.
Jed Boal Reporting The Clark Planetarium unveiled an exciting new exhibit today. It's called Newton's Daydream, but it's really every kid's fantasy.
Newton's Daydream may just leave you spellbound and mesmerized by the motion. The new audio-kinetic sculpture, or noisy sculpture in motion, will grab your attention in the main hall of Clark Planetarium. It's a work of art crossed with a science demonstration.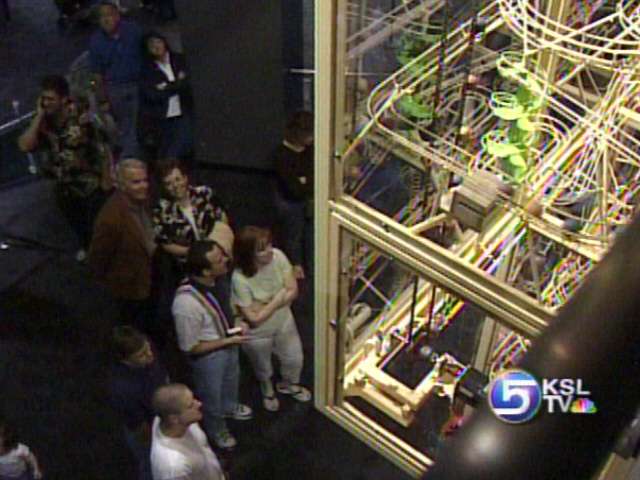 "You can make the balls go and you can start them and stop them and make them do loop de loops and stuff like that."
It's more than twenty-five feet tall --that's two stories-- and takes up a good part of the ceiling as well. It combines an intricate maze of moving balls with bells, drums and other noisemaking obstacles to create a whirring visual and auditory amazement.
Tom Dolan, 11-years old: "I could stay here for a few days."
At any time, more than sixty balls can be in play throughout this contraption, and kids control every move. Newton's Daydream was designed by sculptor George Rhoads, who has designed similar exhibits in New York, Boston, Australia and Canada.
The sculpture was under construction in Ithaca, NY for the past eight months, installation was completed in the planetarium earlier this week.
×
Related links
Most recent Utah stories