Estimated read time: 2-3 minutes
This archived news story is available only for your personal, non-commercial use. Information in the story may be outdated or superseded by additional information. Reading or replaying the story in its archived form does not constitute a republication of the story.
Brooke Walker ReportingUtah's elite Urban Search and Rescue team is ready to respond, the group is already in Texas. And our chapter of the Red Cross is calling volunteers who are interested in more training and have flexible travel schedules. And on top of that, some of the men and women returning from Louisiana, believe it or not, are ready to go to Texas too, if needed.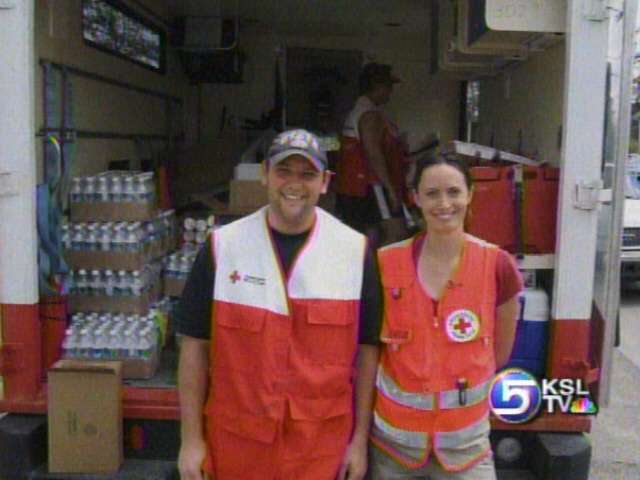 When Ryan Anderson left Utah in the Red Cross Emergency Response Vehicle, he had no idea how long his services would be needed. He served hundreds of meals each day for people who didn't have any food.
Ryan Anderson, Red Cross Intern: "Today I ran into a lady who just broke up when we gave her a meal and she just found her dog dead in her house under her mattress. She hasn't had any time to bury it. It just breaks my heart to see people in those situations. Yesterday I found a lady who had just seen her house for the first time after the hurricane, bawling. I felt helpless to the situation. I have no idea what I would do in that situation."
Eyewitness News interviewed volunteer Sara Jordan before she left for Louisiana. That was nearly a month ago. Jordan's family is from New Orleans and she is still there as Hurricane Rita floods the city again..
Sara Jordan, On the phone from New Orleans: "It's mind-boggling. It's absolutely unbelievable! We've already experienced intense squalls. We've got tornadoes that has come as far as Parish, where it's very far from southwest Louisiana, where they are expecting this to hit land."
Both Sara Jordan and Ryan Anderson say they are willing, and want to help victims of Hurricane Rita.
Anderson is one of about 30 Utah volunteers sent by the Red Cross to provide long-term relief, and The Red Cross needs more people who can spend anywhere from 10 days to a month in the Gulf Coast area.
Last month, more than 17-hundred Utahns began training- after Hurricane Katrina. The Red Cross will ask those volunteers first if they are willing to help, wherever that may be. But new volunteers are also needed!
If you can help here in Utah or the Gulf Coast, go to the web site for the Utah Red Cross Chapter.
×
Related links
Most recent Utah stories