Estimated read time: 2-3 minutes
This archived news story is available only for your personal, non-commercial use. Information in the story may be outdated or superseded by additional information. Reading or replaying the story in its archived form does not constitute a republication of the story.
SALT LAKE CITY -- We all are well aware that Utah's national parks are known around the world. Thousands of tourists visit our state every year to experience the scenic beauty of the parks.
Now, thanks to a space shuttle astronaut, Arches National Park is out of this world.
Last February, the Space Shuttle Endeavor made a thunderous liftoff into space, the beginning of another trip to the International Space Station to bring supplies and equipment.
Astronaut Robert Behnken, a mission specialist who'd flown in space before and taken several space walks, was on board.
On this particular trip, Behnken had another mission: to promote our national parks, specifically those in Utah.
---
What I should have brought was all of the outtakes where the patch is disoriented and you can't tell that there's an arch on the front of it.
–Robert Behnken
---
"The National Park Service has always been very inspirational to me," Behnken says. "The astronauts actually do some training in the various national forests and national parks to prepare themselves for long trips and preparing for the missions."
Robert and his wife Megan McArthur, who's also an astronaut, have always loved spending time at Arches National Park. So before the February mission, Robert asked if he could take something into space from the park.
"We knew we didn't want to take a rock or a piece of the park with us because that needs to be left behind for all the wonderful visitors to see," he says.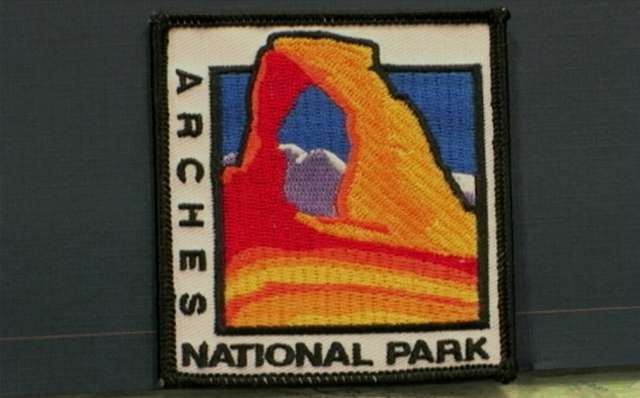 Instead, he brought along an official patch from Arches National Park snapped a photo of it floating high above the earth in the shuttle. Along with that photo came some pretty good publicity for the National Park Service.
This weekend, Robert and his wife came back to the Arches Visitors Center and returned the patch that had travelled 5.7 million miles and circled the earth 217 times.
"They had a lot of places to choose from, so we're thrilled that Arches National Park was one of the selections they made to honor and remember as they went into space," says Paul Henderson, assistant superintendent of Arches.
Someone at the visitor's center asked mission specialist Behnken if he had just taped the Arches patch to the window for the photo op.
"Well the patch itself was certainly floating in front of the Japanese lab window," he says. "What I should have brought was all of the outtakes where the patch is disoriented and you can't tell that there's an arch on the front of it."
Behnken said he was hoping to take a photo of Arches from space, but every time the shuttle was overhead it was dark. He's since asked astronauts on other missions to take a few shots if they can.
E-mail: kmccord@ksl.com
×
Related stories
Most recent Utah stories