Estimated read time: 1-2 minutes
This archived news story is available only for your personal, non-commercial use. Information in the story may be outdated or superseded by additional information. Reading or replaying the story in its archived form does not constitute a republication of the story.
Ashley Hayes Reporting Hazmat crews were called to a chlorine leak at Thatcher Chemical last night.
Crews closed roads near 1900 West 1300 South as a precaution. They have since been reopened.
Officials say there was no threat to the public. But the leak was an inconvenience for people in the area who have dealt with this type of problem several times throughout the last few years.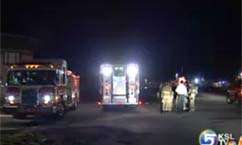 This leak was relatively small compared to leaks at Thatcher in the past. It was caused by a small valve in a chlorine tank that broke. Crews quickly contained the leak. It was the latest in Thatcher's history of spills, leaks, and accidents.
Thatcher Chemical Plant
November 1991
-13,000 evacuated
-400 injured
1992
- Fined $175,000
1993
-Worker hospitalized
October 1999
- 1 hospitalized
- 6 others treated
November 2004
-10,000 gallon tank explosion
- 1 worker injured
A sulfur dioxide leak in 1991 forced 13,000 people to evacuate. Four hundred were injured.
In 1992, the plant had a chlorine leak. That same year the state cited the company for safety violations and fined it $175,000.
The next year an employee was hospitalized following a leak.
A sodium dioxide leak in October 1999 hospitalized a man. Six others were treated.
And most recently, in November 2004 a 10,000-gallon tank of sodium thio-carbonate exploded. One worker was treated for minor injuries.
After the last explosion, some nearby residents told Eyewitness News they were concerned about problems with the plant and were beginning to worry about their safety.
Once again, last night's chlorine leak has been contained. Hazmat crews went into the scrubber room and secured the leak.
×
Most recent Utah stories